Mario Golf World Tour; More Screens and Online Info!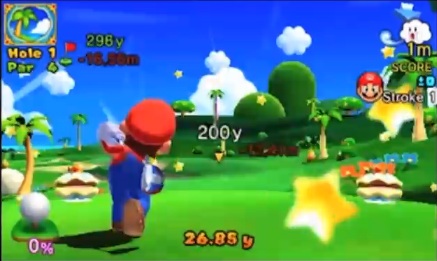 Another already known about Nintendo 3DS game discussed at today's Nintendo Direct was Mario Golf World Tour.  But do you know what was more interesting about it?  The online features which were discussed today that involved things like Mario Kart 7 style communities.
First things first, obviously it has online play against random people, letting you go up against golfers from all round the world.  That much is obvious.
But it also has online leaderboards for each course, letting you see how good you are in comparison to other Mario Golf players.  And best of all, it has Mario Kart 7 style communities!
Above: These diagrams show online multiplayer/communities in action
Yes, you can start communities for people to join with different rules and regulations.  For example, you can disable any power shots or other similar special moves, force everyone to use certain characters or much more!  So it's kind of Mario Kart 7's online, except with even more options to choose from!  Here's the presentation from today's Nintendo Direct:
And here are some screenshots from it showing off the game:
Finally, this title will have all the offline local multiplayer you'd expect from a Mario sports game.  So people who don't play online won't be left out, assuming they know others with a 3DS system.
All in all, Mario Golf looks like a fantastic Mario sports game on the 3DS.  It's got interesting courses, a nice wide array of characters and plenty of online multiplayer options to go around, so it's definitely not a half finished job like Mario Tennis Open was.
Are you excited for Mario Golf World Tour?