Level-5 Trademarks Inazuma Eleven Ares and Lady Layton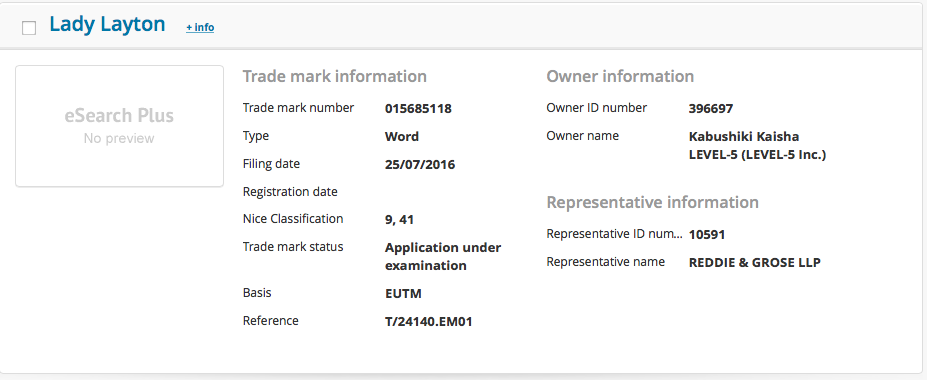 Along with numerous others. Here's the full list of new trademarks:
Lady Layton
Inazuma Eleven Ares
Megaton Musashi
Otome Hero
Yo-Kai Daijten
Yo-Kai Watch Geraporhythm
But what are they used for?
Well in some cases, it seems pretty obvious they're for new games. For example, a new Yo-Kai Watch game or two seems extremely likely. Same deal with Inazuma Eleven, which is due a new game around about now.
It's the other three that are interesting. For starters, what's Otome Hero? Because that doesn't correspond to an existing franchise or game. So that's likely a new IP they'll reveal at one point.
Megaton Musashi is interesting. Apparently, it's the name of a Japanese warship from World War II. So perhaps Level-5 are making a strategy game for once? Maybe one like Fire Emblem or Advance Wars?
Either way, they look like possible new IPs.
And that brings us to Lady Layton. What is it?
Well, probably something to do with the Professor Layton series. But how could it work?
Because there's not really a 'Lady Layton' esque character in the series. Flora is his adopted daughter, but she's never called Layton in game. The professor doesn't have a wife or (surviving) love interest. Who's Lady Layton meant to be?
So it's going to be interesting to see how this could be a real thing. Hopefully they're not going to gender swap Layton for 'attention'…
Either way, all should be revealed on July 27th, in their 'Vision' conference.  But what do you think these trademarks are for?
Source:
Level-5 trademarks "Lady Layton", "Inazuma Eleven Ares" and more – NeoGAF