Is Mario Party Island Tour Just a Bad Idea in General?

But wait!  Before any Mario Party fans from a certain affiliate flip out over this and think I'm hating on the Mario Party series, I'm not.
What I do think though is simple; Mario Party Island Tour should have been a Wii U game rather than a 3DS one, and you can read the full article to find out why…
So why do I think Mario Party Island Tour should have been a Wii U game?  Well, here's why:
1. The Very Mario Party Concept is Built for the Wii U Game Pad
Think about it, one of the biggest draws of the Mario Party series is literally asymmetric multiplayer done over ten years before the Wii U's announcement, in the form of the 1 vs 3 mini games.  Like this:
Many of those are built around vastly different control schemes, crazy machines the single player uses to take out his rivals (which could be mapped to the touch screen) and all kinds of other things that just scream 'this should be done on the Wii U'.
So why the hell did Nintendo not do this as quickly as possible?  Mario Party is literally the system's perfect tech demo.  Want to demonstrate how asymmetric multiplayer adds to the experience?  Just show people Mob Sleds or Hazard Hold from Mario Party 9 with the single player using the Game Pad and others use Wii remotes!  Voila, instant easy to understand hook to get people interested in asymmetric gameplay.
Mario Party is basically made for the Wii U's central concept.  It should have gotten a Wii U game this year instead of a 3DS one.
2. Wii U Needs more games than the 3DS
Additionally, as much as I love the 3DS and its games, I have to admit the Wii U needs new titles more.
Really, just think about this for a minute.  Which game needs more 'big names' available this holiday season?
The super successful handheld which already got Luigi's Mansion Dark Moon, Fire Emblem Awakening, Animal Crossing New Leaf, Mario & Luigi Dream Team, Pokemon X and Y and what will be getting The Legend of Zelda A Link Between Worlds in just a few days?
Above: The 3DS got or is getting all these big games in 2013.
Or the failing home system which only has Super Mario 3D World as its weapon against the PS4 and Xbox One launches?  The one which has been on the verge of death for the last six or so months, has had most major games like Mario Kart 8 and Donkey Kong Country Tropical Freeze delayed to 2014 and has been designed around a concept the average consumer can't figure out or give a toss about?
Above: On the other hand, this is basically the Wii U's yearly 'big titles' by Nintendo…
Did you answer B like any sane, rational person?  Then you're smarter than Satoru Iwata and the various other Nintendo executives and staff, who seemingly think the best way to save the Wii U is to release one big game with only a few lesser known ones as back up, and then just chuck it to wolves and see if it survives.
Put simply, Mario Party Island Tour/Mario Party 10/whatever is the game the Wii U needs, not yet another game to pack away in the 3DS' ever growing more packed lineup of games.
3. Party games don't work on a handheld system
Finally, we get to the obvious point.  Namely that party games just do not work on a handheld system.  The concept is just fundamentally not right for them.
Why is this?
Because in a nutshell, costs make local multiplayer (the very backbone of any party game) completely non viable on a handheld games console.  You just can't conveniently get many people to play against if everyone needs their own 3DS to be able to play the game with you, even if download play is included.  It's awkward and cost prohibitive.
In contrast, a home console is the perfect place for a party game.  Local multiplayer is cheap and convenient, you simply all (well, almost all with the Game Pad) share the same TV and buy a few extra controllers, you easily find people willing to play against you in the game (since games like Mario Party are perfect for semi drunken parties with bored kids/teens/adults wanting some mindless game to play for an hour or two) and generally, the concept works.
In fact, let me give you a hypothetical situation to illustrate this.  Pretend it was possible for me to get Island Tour before Christmas (since Nintendo of Europe is just sending it out to die in February 2014 instead) and that I had some interest in buying the title.
If it was on the Wii U, then Mario Party Island Tour might have been a great purchase.  Think about it, Christmas approaches, people visit to party and eat turkey and open presents and watch TV, and they want something fun to do when a hour or two needs to be filled.  Hey look, here's the new Mario Party game on the Wii U!  We can play that while waiting for the next Christmas special to start and watch our friends/family get humiliated in a bunch of silly mini games and wacky game boards!  Cool!
But on the 3DS, this isn't the case.  Remember, I live in the UK here.  You know, the land where very few people own a 3DS and I know absolutely no one in the area who even has one or would bring it to this 'party'.  Instead, Island Tour would be a completely useless purchase, since we'd be most likely unable to play multiplayer, the atmosphere brought by a bunch of bored adults playing the game on a big screen TV wouldn't be there and all in all, a single player Mario Party game would be completely useless.
See why this game should have been a Wii U title now?
Still need to know why?  Okay then, let's look at something else.  Here are the last few attempts at trying to sell a Mario Party game on a handheld system.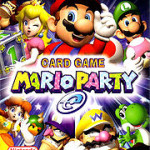 Above: Wasn't this a big success?  Nope.
First there was Mario Party e, a likely forgotten game which tried to merge real world board game elements with Mario Party and the e-Reader.  Given that we have no idea how well it sold, it's best to assume the game sunk without a trace at retail.  Then again, so did the e-Reader itself.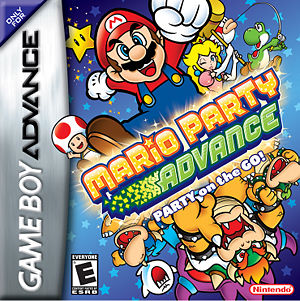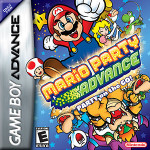 Above: This failed too.
We had Mario Party Advance, a failed game which didn't even try to includea party mode, meaning all multiplayer was entirely mini game focused and had none of the random chance style elements in.  As you may have realised, single player orientated Mario Party is a terrible idea, and the game bombed horribly.
Finally, we had Mario Party DS.  Decent game, but it mostly sold well in Japan.  Outside of there?  Not so much.
So why exactly after all that did Nintendo decide to release Island Tour as a 3DS game again?  Probably because of their 'Japan is the centre of the universe' mindset, which causes them to make quite a few poor business decisions that cause problems in the rest of the world.
Mario Party Island Tour should have been a Wii U game, and Game & Wario should have been a 3DS WarioWare title.   That's it.
Image by RedHead2J of VG Box Art and depicts a hypothetical Wii U Mario Party game.