Have Early Details about Tomorrow's Nintendo Direct Been Leaked?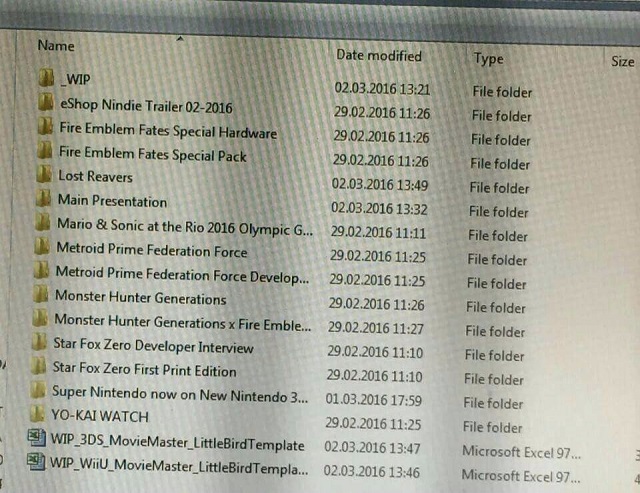 As with all rumours, take this with a grain (okay, maybe ton) of salt. But apparently, a Dutch Nintendo news site called N1ntendo (who have apparently been good with leaks in the past) have been sent information about what games are going to be included in tomorrow's Nintendo Direct. Here's a picture they provided, showing what appears to be the content folders for the video (labelled with various game titles):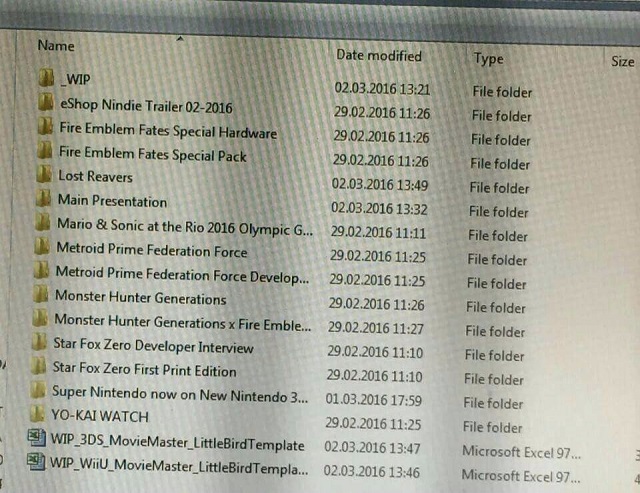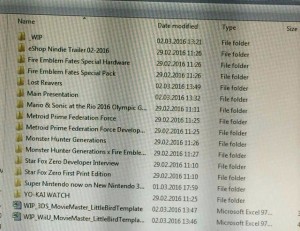 Can't see the picture? Here's the list:
Nintendie Trailer (Nintendo eShop indie games)
Fire Emblem Fates Special Hardware
Fire Emblem Fates Special Pack
Lost Reavers
Main Presentation
Mario & Sonic at the 2016 Rio Olympic Games
Metroid Prime Federation Force
Metroid Prime Federation Force (something development related)
Monster Hunter Generations
Monster Hunter Generations x Fire Emblem
Star Fox Zero Developer Interview
Star Fox Zero First Print Edition
Super Nintendo games on New Nintendo 3DS
Yo-Kai Watch
So, fairly average to be honest, with the exception of a few developer interviews and special editions.  Well, aside from the 'main presentation', which could be literally anything.
But is is true?  Well, good question.  On the one hand, it sounds a lot more reasonable than your average fan concept, since the games listed are all low key titles rather than say, stuff that's got a 1 in 2 million chance of happening.  No explicit mentions of Paper Mario or Zelda U keep it somewhat grounded in reality, as does the lack of any major announcement of the kind you'd expect to see at E3.
And the site itself has a good track record too, so that's something.
So we're gonna give them the benefit of the doubt for the moment.  It seems reasonable, nothing too outlandish is included and hey, the source of the rumours is apparently a fairly decent one.
But what do you think?  Would you want to see these games at the Nintendo Direct tomorrow?  Or is the selection just too bland and uninteresting?
Source:
EXCLUSIEVE WERELDPRIMEUR: Inhoud nieuwe Nintendo Direct gelekt – N1ntendo