Donkey Kong Country and Donkey Kong Land games coming to Virtual Console!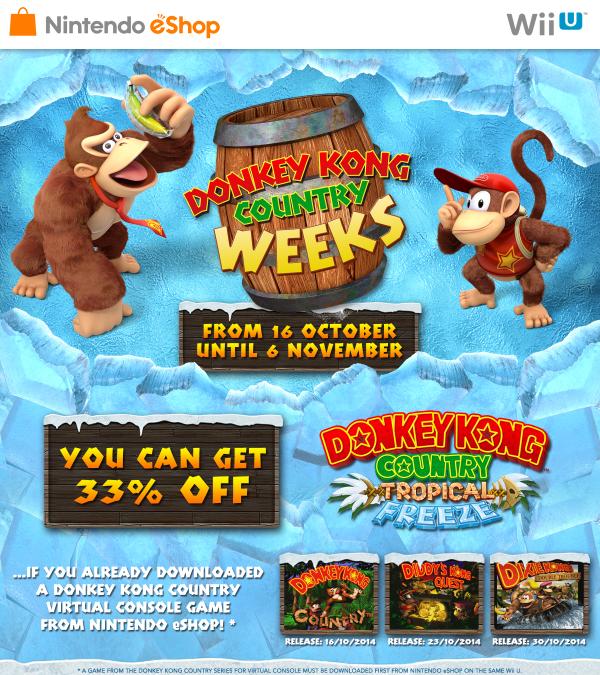 They've been unavailable for a while now (after the former disappeared off the Wii's eShop back in about 2012).  But now, thanks to some generosity over at Nintendo of Europe, the entire Donkey Kong Country series will be heading to the Wii U Virtual Console!
And that's not all.  Just like in Japan, the Donkey Kong Land titles for Game Boy will also be heading the VC's way, with the series being available on the 3DS' Virtual Console.
Oh, and if you buy them, you can get 33% off Donkey Kong Country Returns 3D or 33% off Donkey Kong Country Tropical Freeze.  Depending on what games you buy from what Virtual Console of course (the DKC series gets you a discount for Tropical Freeze, the DKL series a discount for Returns 3D).  This extra promotion will be running from the 16th of October to the 6th of November, as part of what Nintendo UK calls 'Donkey Kong Country Weeks'.  Here's the Twitter post about it:
Classics and discounts abound in the #DonkeyKong Country Weeks on Nintendo eShop on #3DS & #WiiU from 16/10 to 6/11 pic.twitter.com/2GrpXda3Wl

— Nintendo UK (@NintendoUK) October 13, 2014
So, looks like the Donkey Kong Country series is back on the Virtual Console, at least in Europe! Now let's hope the same goes for the games in the US and other regions too…
Source:
http://www.dkvine.com/interactive/forums/index.php?showtopic=9767