Diancie Officially Revealed for Pokemon X and Y!

A few months or so ago, you may remember how we posted some news about three additional legendary Pokemon that a hacker had found in Pokemon X and Y.  These three (Diancie, Volcannion and Hoopa) were backed up by their names being presented in the Global Trade System and some other such places, even if some people doubted it at the time.
Now though, it seems everyone's suspicions have been confirmed.  Diancie has been officially revealed as a Pokemon X and Y event legendary, and matches the appearance in the hacked game screens perfectly.  See the full post for a larger picture…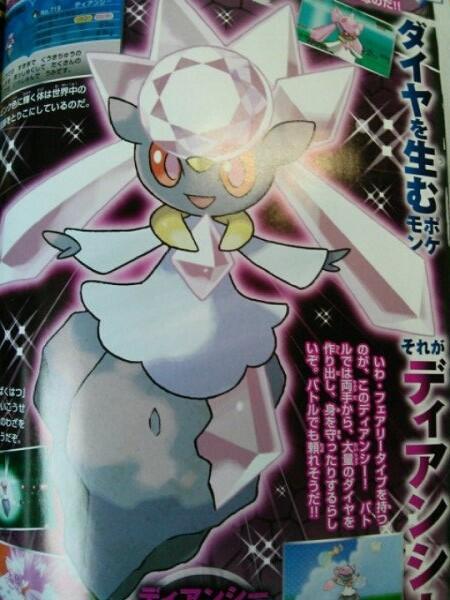 And for comparison sakes, here's how it appeared in the game thanks to hacking:

So yeah, it's now 100% confirmed that this Pokemon is real, and at least 99.99% confirmed that the other two are as well.
What do you think?  Like the design?  Think it'll be an interesting Pokemon to use?
Source:
http://bulbanews.bulbagarden.net/wiki/March_2014_CoroCoro_issue_unveils_Rock/Fairy-type_Pok%C3%A9mon_Diancie