Could the Mario & Luigi Mini Games Work Well on Smartphones?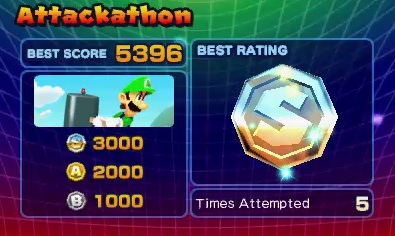 In recent times, much has been made about Nintendo's move into mobile gaming.  But whether it's about Pokemon on smartphones, a Mario endless runner or their actual upcoming apps like Miitomo, the deal has been the same; take popular Nintendo franchises, stick 'em on phones mostly unedited and somehow expect money to come flooding in.  But is Nintendo missing an easy source of future mobile games?  Personally, we believe so, and there's one place we think they can find them:
The Mario & Luigi series
No, not turning the whole franchise into a series of mobile exclusives distributed on the app store. That wouldn't really work for a ton of reasons, most important being that these games still sell one or two million copies apiece for 40-50 quid at retail.  Taking away that income is absolutely insane.
But these games do have one thing in abundance, and one thing which could be very easily adapted to the mobile market.  That thing?  The mini games.
You see, each Mario & Luigi game since Bowser's Inside Story has at least two optional challenge areas.  The enemy gauntlet (aka a boss rush) and an area best described as a mini game challenge, where you have to use the Bros Attacks you learnt to clear out screens worth of monsters and conquer arcade like challenges that use your abilities in new ways.
And do you know what?  These are absolutely perfect for the mobile market.  Seriously, if you took each of these Bros Attack mini games, added a basic title screen and options and sold it for about a dollar each, they would be incredibly addictive little timewasters.
For example, look at some of the mini games you can play in Mario & Luigi Paper Jam.  Like the Trio Shuriken one:
In this one alone, you've got different types of targets worth different points, a scoreboard, a ranking system, targets which freeze all others on screen temporarily, ones you have to not hit, ones you can only hit with a certain character… It's a surprisingly complicated mini game, and one which is actually a lot more interesting than 99% of the 'casual' games being sold on the app store (or the Nintendo eShop for that matter).  Put it up against some utterly atrocious shovelware like 'Don't Crash' (which is literally as sad as it sounds) or even Flappy Bird, and well, it's certainly a better designed and more complete package.
Or if that's not your thing, there's also the Mega Thwonk mini game.  It's a pretty cool endless runner type thing with Giant Luigi, and exactly the kind of game which could be ported to smartphones with minimal effort:
It's again, surprisingly complex for a simple mini game.  You've got to time your B button presses in time to Luigi's steps, like a rhythm games of sorts, duck under and jump over obstacles with A, build up enough speed and power to smash castles out of the way, change your timing when Luigi goes through mud and slows down, etc.  Add the whole ranking system and scoreboard, and the various backgrounds and areas you rush through based on other places in the main game, and its the kind of game that seems like it'd work really well on mobile.
And what's more, the Mario & Luigi series has TONS of these mini games.  In Paper Jam alone, you've got the squash like Trio Racquet game, the precision diving game that's Trio Whirligig, the 3D Angry Birds type game Cannonball Toss and the 3D endless runner/score attack alike Toad Trail.  And that's only in the Attackathon, the Lakitu Centre quests themselves have tons of little arcade and puzzle type game experiences that you could expand upon and repackage for cheap (or free with advertisements).  Did we mention that the previous games in the series have good examples of games like this too?  Or that stuff like Dream Team's Star Rocket and Luiginary Stack mini games could also work well in this context?
Oh, and let's not forget the giant battles and papercraft battles.  Those alone could fill an eShop game worth 5 to 10 dollars.  On mobile they'd be considered almost gourmet experiences…
So yeah.  If Nintendo wants to expand into mobile gaming, they should try putting some of the Mario & Luigi series mini games out as standalone apps.  After all, they're mostly designed like smartphone games to begin with, and they're much better ways to include Mario and friends than just sticking them in an endless runner and calling it 'Mario Dash' or something.  Do you want to see this happen?