Chibi-Robo Real Life Action announced!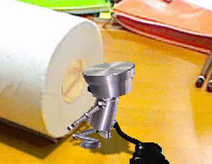 Well this is bizarre. The titular character from Gamecube cult classic Chibi-Robo, and later DS curio Chibi-Robo Park Patrol, is returning in 3DS eShop title Chibi-Robo Real Life Action, released in Japan this very day.
As you may have gathered from this perplexing footage, the game seems to revolve around the 3DS' AR function; a welcome, underused feature, yet probably not used to the extent we wish, as it seems the crux of the action consists of taking photos of mundane objects for them to appear in an incredbly odd museum. Still, at a reasonable price this could be a fun diversion for 3DS owners.
Will Chibi-Robo Real Life Action arrive in western territories? The Gamecube original remains rare and the DS entry was only released in the US as a Wal-Mart exclusive. However, the download-only format of the title may increase its chances considerably; as an online title there's certainly a lot less risk involved. No word on a Western release yet, but keep it 3DS Daily for any further developments.
Source: Official Nintendo Magazine