Best Buy Lists Luigi's Mansion Dark Moon for Wii U
Yep, it's happened again!  Another shop has listed a Wii U version of Luigi's Mansion Dark Moon as coming soon, this time it being Best Buy for Business.
As you could tell, there's no evidence that such a game exists, is in development or is even being considered by Nintendo, so I think we should treat this whole thing as implausible at best.  But the listing exists for anyone who's interested, and can be seen at the link below:
http://www.bestbuybusiness.com/bbfb/en/US/adirect/bestbuy?cmd=catProductDetail&showAddButton=true&productID=BB16580356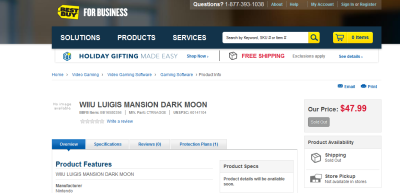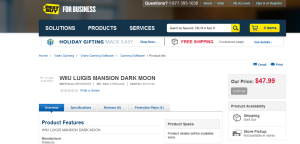 Above: Picture is kept here in case the listing is removed, as proof it existed.
So this might be something.  Would you buy Luigi's Mansion Dark Moon for Wii U if it became an actual game that Nintendo was releasing?
Source:
http://mynintendonews.com/2013/10/20/luigis-mansion-dark-moon-has-been-listed-again-for-wii-u-at-best-buy