Are these the games Nintendo will be showing at E3 this year?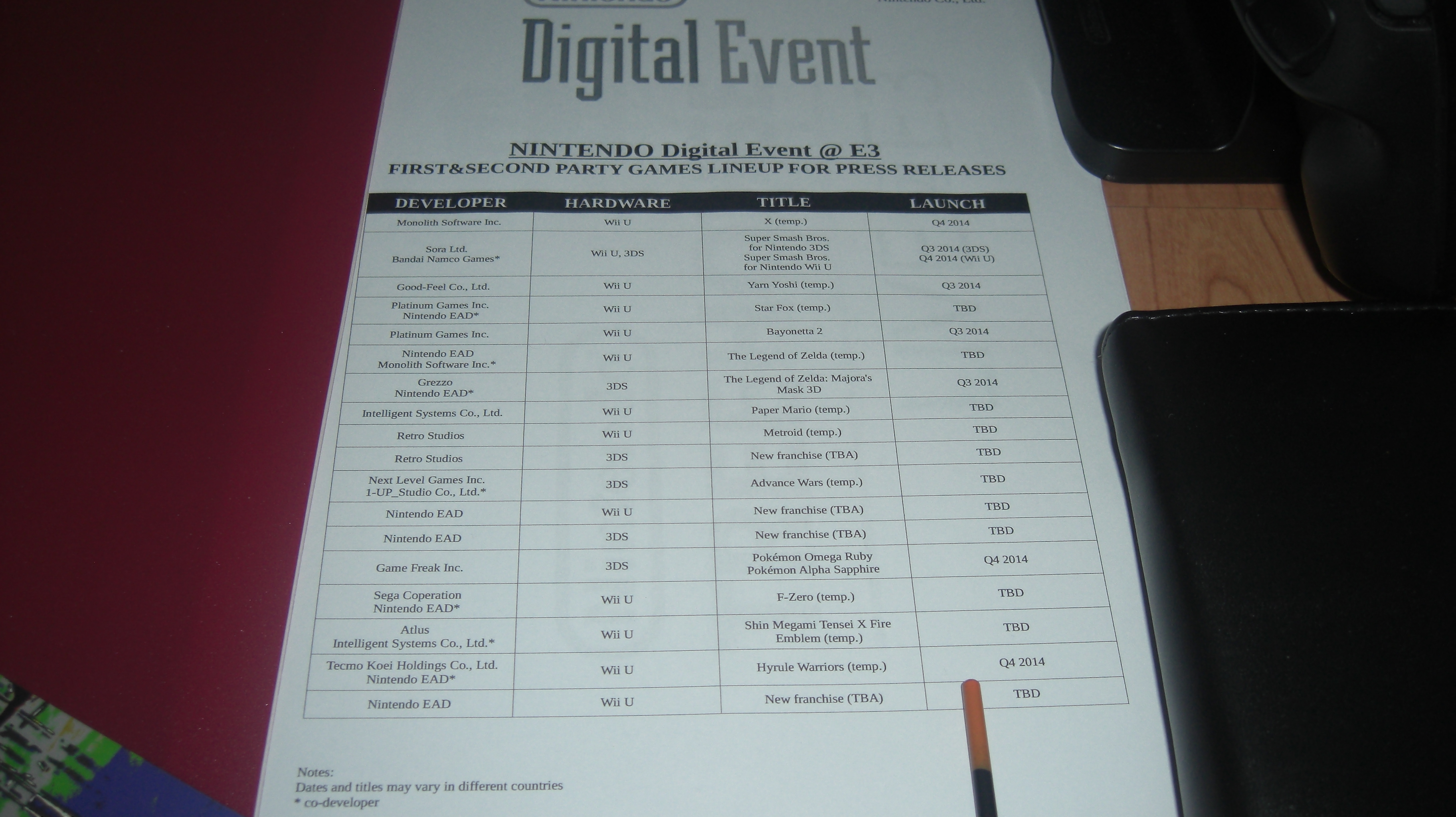 It's all rumours of course (and in the case of the lists in these articles, two seperate sets of them with different information).  But with no ridiculously fake game titles like Zelda The Shard of Nightmare or Castlevania Symphony of the Night 2, I think there's a slightly better chance that one of the following lists of games will turn out to be the real deal.
Here are the two lists: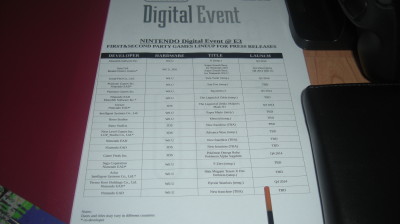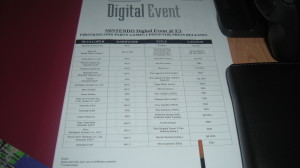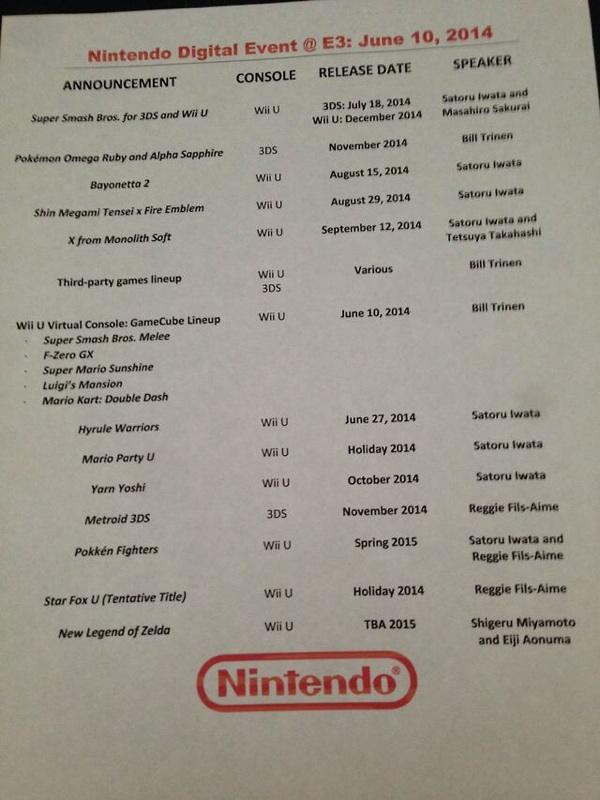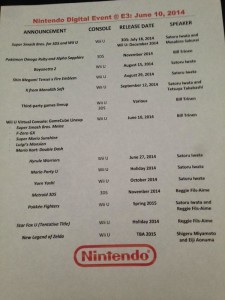 But what do I think of them?  Which one do I believe is most realistic based on my own common sense and the types of games Nintendo have shown in the past?  Find out in the full post after the break!
Let's start with the first leaked list of titles.  The one with the slightly more fancy page design, which can be seen here: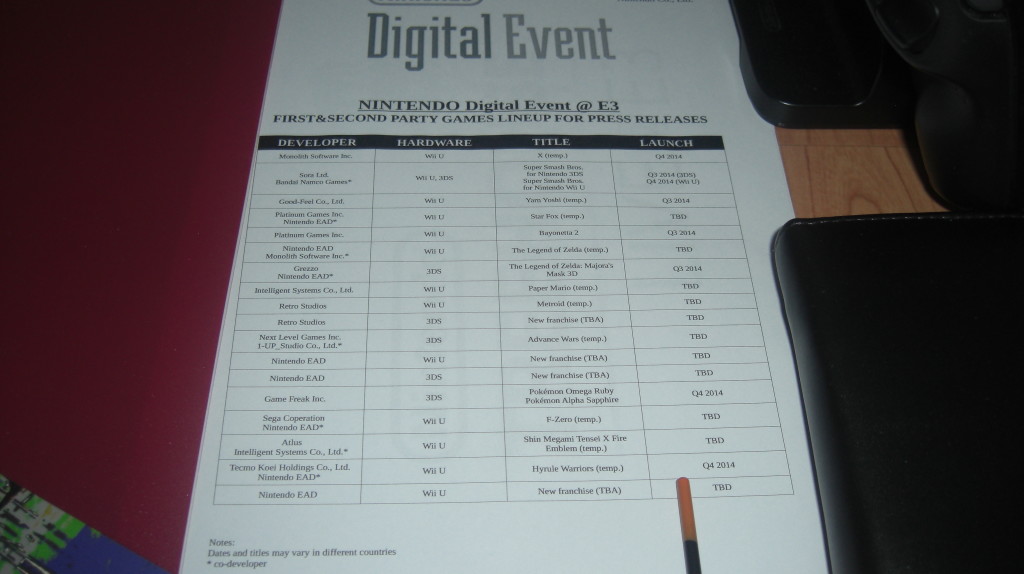 As you can see, the following games are listed as being present at Nintendo's E3 show:
X (the Xenoblade sequel)
Super Smash Bros for 3DS and Wii U
Yarn Yoshi
Star Fox for Wii U
Bayonetta 2
The Legend of Zelda Wii U
The Legend of Zelda Majora's Mask 3D
Paper Mario for Wii U
Metroid by Retro Studios
New franchises on both Wii U and 3DS
F-Zero
Pokemon Omega Ruby and Alpha Sapphire
The Shin Megami Tensei/Fire Emblem crossover
Hyrule Warriors
It's a pretty impressive line up.  But is it real?  I strongly believe it isn't.  For one thing, at least three of these new games seem almost too 'good' to be true.  I mean, a new Metroid by Retro Studios, a new Star Fox game and a new F-Zero game by Sega?  That's less a realistic game roster and more a list of things hardcore Nintendo fans desperately want to believe are happening.
Heck, add the THREE new franchises the list promises (that's extremely unrealistic for Nintendo), and it honestly reads more like IGN's wishlist than anything even remotely likely.
But it's not the only list.  Nope, here's the second one I showed earlier, in a bit more detail: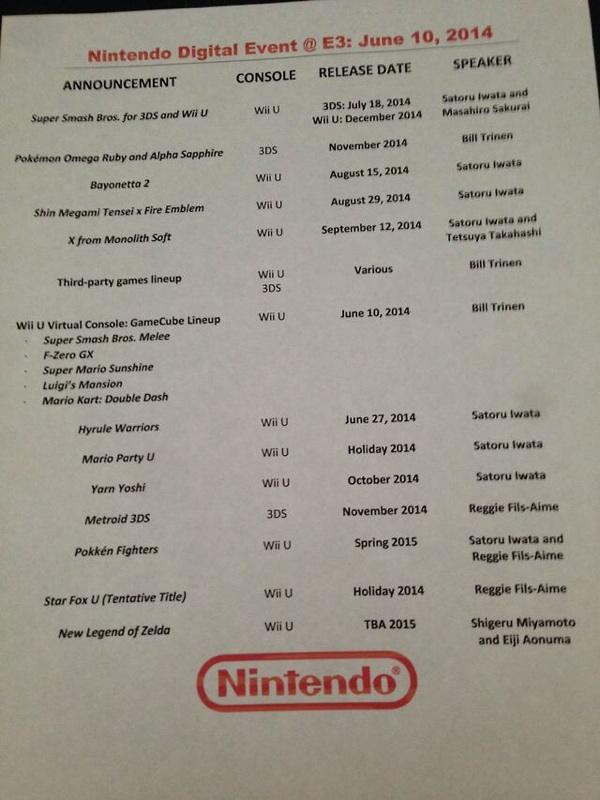 It's a whole lot less interesting in terms of presentation, and to be honest, seems a tad more likely to boot.  Here, the games are:
Super Smash Bros for 3DS and Wii U
Pokemon Omega Ruby and Alpha Sapphire
Bayonetta 2
Shin Megami Tensei X Fire Emblem
X
Third party games
Wii U Gamecube VC Line up (Luigi's Mansion, Smash Bros Melee, Mario Sunshine, F-Zero GX, Mario Kart Double Dash)
Hyrule Warriors
Mario Party U
Yarn Yoshi
Metroid 3DS
Pokken Fighters
Star Fox U
Legend of Zelda
It's still on the wishlist side of things rather than being overly realistic, but hey, I guess it is a more likely line up for Nintendo's 2014 E3 presentation.  After all, you've got a bunch of games we've seen already, a few games we know are coming and a couple of extra likely choices like Mario Party U, Metroid 3DS and Star Fox U thrown in at the end.
It's still obviously a wishlist in some sense (where does everyone get the idea of Star Fox for Wii U from anyway?), but it's a much more likely one than the first list was.  Less new IPs, less crowd pleasers, more safe bets that Nintendo might unfortunately lean back on.
So those are my thoughts. Put simply, I think the second list is more likely, but I'd be much happier if the first list turned out to be genuine than the alternative.
Source:
http://mynintendonews.com/2014/05/18/another-two-rumoured-nintendo-digital-event-lineups-leak-online