Another Update on Gaming Reinvented
As you've probably noticed by now, updates have become very… sporadic over here at Gaming Reinvented. But that's not just because of us spending a lot of time playing the games that we're supposed to be writing about! Oh no, it's because over here on Gaming Reinvented, we're in the middle of a major site redesign.
So what's being changed?
Well to put it simply, we're moving the site away from a single author/team project to more of a community setup. In other words, you'll be able to write your own articles, reviews and guides and host them on Gaming Reinvented, sort of like a cross between a traditional gaming site and a platform like Reddit or Medium. We've already implemented the first part of this, with a button that opens up an editor for posts/reviews/guides/interviews for logged in users.
What's more, it's not just a simple text form either. Oh no, you're also able to:
Use any formatting normally used in an article (images, videos, font styling, tables, polls, etc)
Save your progress and return later
Choose things like whether the liveblog functionality is active or not, for quick updates.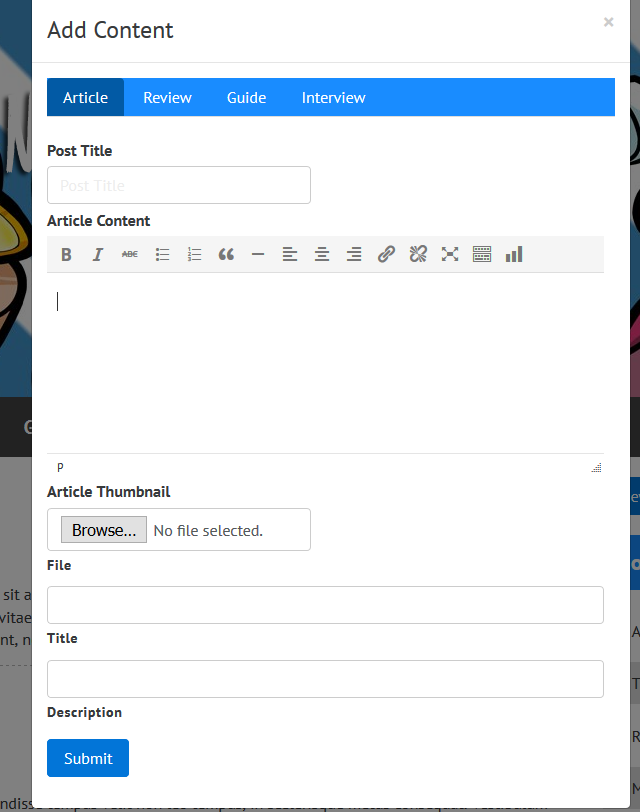 In addition to this, another interesting feature in the works lets you control how your article is monetised. You see, a while back, we talked about the possibility of having paid subscriptions on Gaming Reinvented. Well, that's still a thing that's in the pipeline, but for the most part, it will be up to the writers whether they charge for content or not. Think your craft can't survive with ads as the sole monetisation method? Then paywall your article, which will require a specialised Gaming Reinvented membership to view (you can set a short preview for people who aren't logged in). Think it's better to keep things private? Then you can simply make your article or review member only, to restrict it from search engines and non users on this site. Or you can simply forget all that, and just make the article free without any advertising. It's all up to you.
There are also a few interesting systems to encourage more ethical journalism on the site. On other gaming sites, the writers tend to agree to embargoes and deals in secret, with at best a tiny tagline at the end stating that the review copy was provided by the publisher.
That won't be the case on Gaming Reinvented. Instead, all conflicts of interest will have to be spelt in full in a special box provided in the editor. This will then translate it to a giant alert banner above the title, where a reader will be able to see it easily. Here's a preview:

Pretty hard to miss, isn't it? If it's needed, we might also include an even more prominent one, where conflicts of interest are so serious that they compromise the entire purpose of the article. This could look a bit like this, thanks to the typical Bootstrap alert styling:
Other features, which are still in development include the ability to add fan game/indie projects and save them to the site, with a mini website type deal for the project, a way to upload and share videos as part of a gaming specific video hosting site and the possibility of letting members create quizzes, complete with multiple choice questions and a complex scoring system. But these are future concepts, and we'll be focusing more on the ability for members to post articles in the short term.
So what do you think? Are you interested in our new design and plans for Gaming Reinvented? Would you be interested in a gaming site which lets the actual gamers post the news rather than a small team or single person? And what other types of content do you want to be able to create on Gaming Reinvented?