Animal Crossing Direct; Full Presentations
Yesterday on Gaming Reinvented, we mentioned an Animal Crossing Nintendo Direct that would be posted online today. Focused on the Amiibo functionality (from the upcoming update), the Direct was announced for all major regions and would also include a teaser for the upcoming 3DS game Miitopia as well.
And well, now Nintendo has posted the Nintendo Direct online. Here are the three versions of the Direct, for North America, Europe and Japan respectively:
So what's new here?
Well, quite a few things actually. For one thing, you've got Nintendo themed camper vans where characters based on other franchises can visit your town. So if you want to talk to the Animal Crossing versions of Epona, Wolf Link and Ganon, you can.
Same with characters based on the Squid Sisters for Splatoon and others themed after other Nintendo series. So that's good!
Of course, it's not just Nintendo characters who appear here. Oh no, you can also use normal Animal Crossing Amiibos to bring in new villagers for your town. These characters have their own skills, and can be invited to your town as permament residents too. Examples of such characters include Vivian, Hopkins and Cashmere.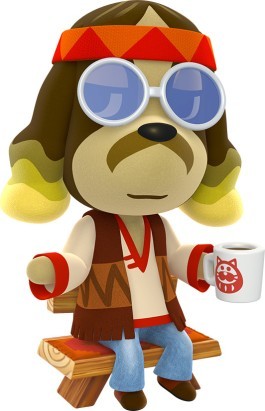 Above: And Harvey, who runs the campground.
And aside from characters, there are other additions too. Some of these include:
MEOW Coupons, that you get for doing good deeds around the village. These can be traded for special items
New mini games. These include the island survival one from Amiibo Festival and a new Puzzle League type one where your mayorship gets challenged
Amiibo Camera mode that lets you take in game selfies (with other characters)
A storeroom to store extra items in your home
Plus the option to sell your village to Tom Nook so you can start a new town. You know, if you want to start a new game with extra money.
Either way, it's a pretty big update. One with a funny video too, with Nintendo staffers pretending to be KK Slider and a new Animal Crossing character respectively.
So let's hope it brings a bit more life to the game as well. After all, it's available right now!