Ace Attorney 5 coming July 25th
In Japan at least, according to a now removed piece of information from the Japanese official site.  Here's a screenshot showing how the page used to look with the date highlighted (from Silicon Era):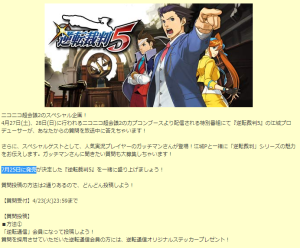 Above: Screenshot from Silicon Era
So that seems to be the game's Japanese release date.  Will the game coming out this year mean there's a chance of Ace Attorney 5 getting a Western release sometime in late 2013/early 2014?
What do you think of Ace Attorney 5?
Source:
Capcom Lets Slip Ace Attorney 5 Release Date – My Nintendo News