Nintendo Software Engineer's Tweet Implies Bandai Namco Are Working on Super Smash Bros for Nintendo Switch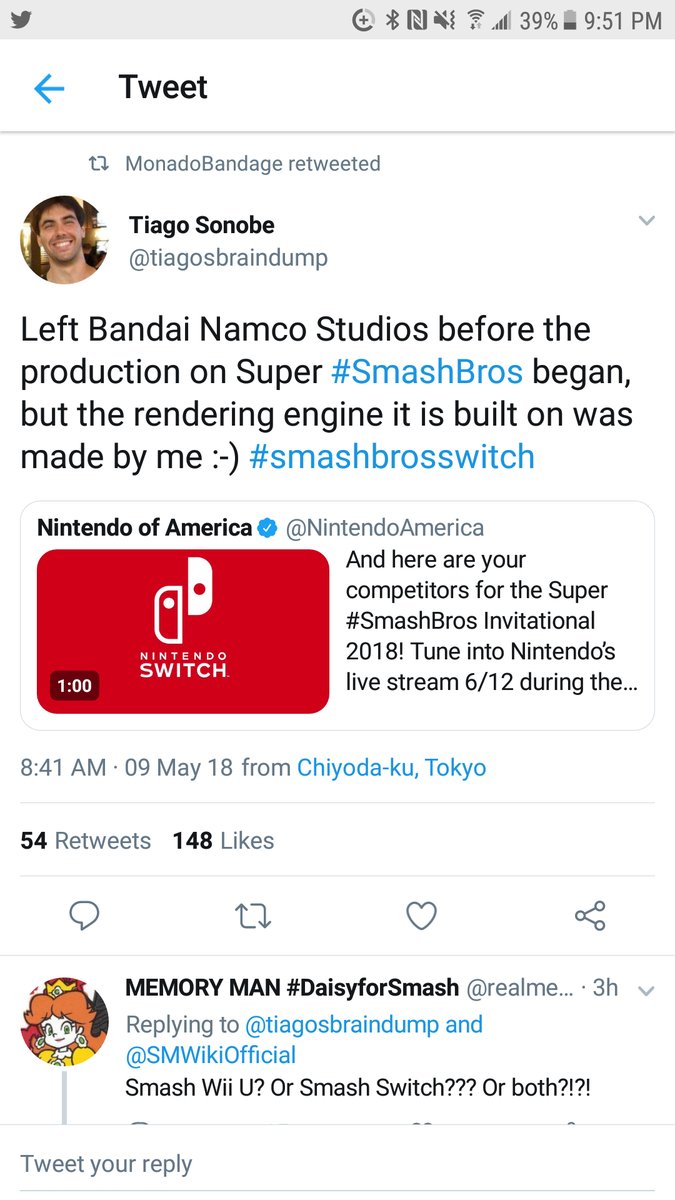 Given E3 is fast approaching, it's no surprise that 'leaks' for games like Super Smash Bros would start appearing online. After all, everyone's hyped up to hell over this stuff, and anyone with a bit of rudimentary image editing skills can get a ton of notoriety for just a few minutes work.
However, some leaks are better than others, and one from an ex Bandai Namco employee indicates some very interesting about the new Smash Bros title. That's because this employee (who has since moved to Nintendo themselves) was apparently involved with the development of the game's engine and mentioned just as much on his personal Twitter account.
Here's a screenshot showing the tweet in question:
Tweet was deleted
Accidental leak? pic.twitter.com/waffON4W4B

— IceDoesntHelp (@IceDoesntHelp) 10 May 2018
As you can tell, it doesn't exactly leave much to the imagination there.
But is it true? Is the account associated with this info actually trustworthy?
Well, it's always going to be impossible to be 100% sure, since a good hoaxer can fake virtually anything.
However, where Mr Sonobe is confirmed, it does indeed seem to be legitimate. That's because not only do we have evidence an account did exist for said individual at one time…
But we also have evidence from related sites like LinkedIn showing he was indeed employed at Bandai Namco in the past and is currently working at Nintendo now. Just check out his profile if you don't believe us.
It's clearly the same guy, and the dates match up well with the information provided in his now deleted tweet.
Which in turn gives us reason to believe it is indeed true. Bandai Namco is working on Super Smash Bros for the Nintendo Switch, and this ex developer really did leak their involvement with his tweets. The evidence just seems too strong to deny it.
But what do you think about it all? Are you happy that Bandai Namco is returning for this game? Do you feel their involvement may hint towards what type of sequel the Switch game is? And what do you think about ex company employees giving away information like this online?
Have your say in the comments below or on social media today!
Source:
A Nintendo Software Engineer's Tweet Suggests Bandai Namco is Working on Super Smash Bros for Switch (My Nintendo News)