A Nintendo Direct IS Coming September 13th 2017!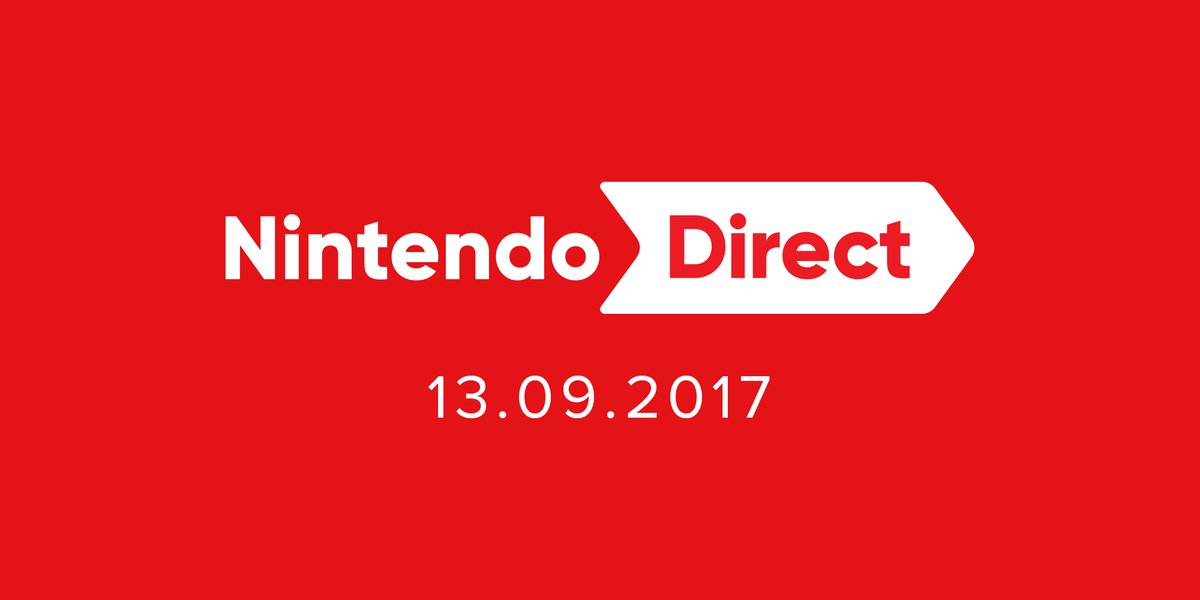 Well, isn't this convenient! Just one day after I posted a rumour about an upcoming Nintendo Direct, Nintendo goes out and actually confirms it for that exact date!
Yes, the September 13th Nintendo Direct is indeed real. Here's the Twitter post confirming it by Nintendo of America:
Tune in Sept. 13 @ 3pm PT for a new Nintendo Direct featuring upcoming #NintendoSwitch and #3DS titles. https://t.co/98jGsmJzP9 pic.twitter.com/FLauZWYRDh

— Nintendo of America (@NintendoAmerica) 11 September 2017
As well as a similar one about the event courtesy of Nintendo UK:
Tune in at 23:00 BST on 13/09 for a new #NintendoDirect, focussing on what's heading to #NintendoSwitch and #3DS in the coming months. pic.twitter.com/Otp5lMRCJY

— Nintendo UK (@NintendoUK) 11 September 2017
And one from Nintendo of Japan:
9月14日(木)朝7時より「Nintendo Direct 2017.9.14」を放送します。『スーパーマリオ オデッセイ』など年内発売のソフトを中心にニンテンドー3DSや、Nintendo Switchに関する情報をお届けします。 https://t.co/vcPmtMRc9l

— 任天堂株式会社 (@Nintendo) 11 September 2017
That already confirms it's important there and then, since only important Directs get posted as news by all Nintendo branches at once.
But it's the game the Direct is focused on that's really intriguing here.
It's about Super Mario Odyssey.
Yep, as Nintendo has confirmed in the tweets above, the Direct will contain all new information about Mario's upcoming 3D Switch adventure. And that makes us wonder.
What exactly could be confirmed at this point?
It's obviously not just a few clips of existing kingdoms or new outfits, since those wouldn't count as major. Nor would some random details about Power Moons or bosses.
What would count however are:
New kingdom announcements, like one dedicated to the Snow and Lake Kingdoms. This would suit Nintendo very well, since they're known to formally announce details about games after having them leaked online.
Another possibility would be some news about Peach's crown or Bowser's top hat. At least one of these hats is already known to be a Cappy like ghost, with the other basically been confirmed as a very similar one.
So that would give Nintendo something interesting to announce too. Especially if Bowser's hat needs to be countered by Mario's possession mechanic, or if Bowser can take over Mario's body in the boss battle.
It could also be something about amiibo too. That's because while these things were revealed back at E3, nothing has ever been said about what they do in game. Do they unlock new costumes? Open all new modes? Let Mario play as other characters?
It's never been said so far, and provides quite a few possible topics for a Nintendo Direct as well.
And then it could always be a brand-new feature, kind of like Cappy was in the E3 presentation. After all, we didn't know possession even existed in the Switch showcase presentation. We were just given shots of Mario running around New Donk City and Tostarena.
So perhaps Nintendo has something equally major up their sleeve here as well. It would certainly explain why 'so much' information has seemingly been given out about the game. Or perhaps stop people complaining about a lack of content.
Either way, something big will be revealed for Super Mario Odyssey.
But it won't be all the Direct has going for it. Oh no, while Super Mario Odyssey is a big focus, it's certainly not the only one.
Nope, as Nintendo says, the presentation is focused on what's heading to the Switch and 3DS in the coming months.
Which is quite a lot when you think about it. Mario & Luigi Superstar Saga remake, Metroid Samus Returns, Pokémon Ultra Sun/Moon… those are just three of a few dozen games heading our way before the end of the year.
All of which are likely getting trailers or reveals in the Direct. After all, it's certainly long enough (with a 45-minute runtime for the video). It's very exciting stuff all round.
So yeah, if you're a Nintendo fan, check it out. It'll be airing this Wednesday at 11pm BST, with a liveblog from us likely to follow.
See you there!