Nintendo Direct 13th September: Liveblog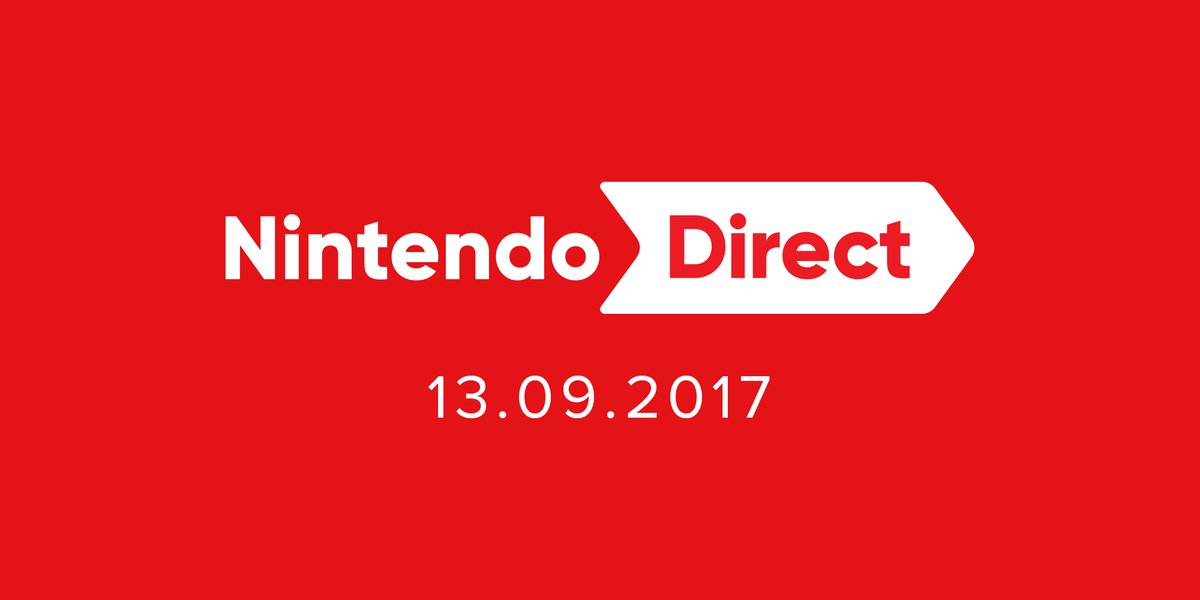 Well, it's that time again. Nintendo's holding a major Direct, and we've decided to liveblog about it from the site. This time it'll be focused on 2017's Nintendo games, with Super Mario Odyssey being the centre of attention.
And well, with 45 minutes of content… it's gonna be great. New title reveals, Mario Odyssey gameplay reveals, stuff from Zelda and Pokémon…
It's shaping up to be a dream Nintendo Direct for fans.
But before we head to the livestream, we're gonna point out a few things about the liveblog format for anyone confused about it.
First of all, this is our immediate thoughts on the games. Not detailed articles (those come later). Immediate thoughts formed exactly a second or two after the reveal.
So, don't expect full article length essays about each announcement. Instead, expect basic sentences about the reveals as they happen. So, you might have stuff like:
'Toy Kingdom revealed for Super Mario Odyssey'
As well as:
'Vaati is the main villain for the Champion's Ballad DLC'
Instead of more fleshed out announcements. But that's just a time constraints thing. When the Direct is over and everything's done, that's when we'll actually post the full announcements.
So, don't expect any fully formed thoughts here.
Nor should you expect coverage of every little detail here. We do try and be thorough sure, but we can't focus on every background and character animation in a matter of seconds. So again, that'll come in the full articles posted after the liveblog.
Finally, note that any terrible announcements will be treated as you'd expect. We don't sugar coat stuff here, we're only positive about reveals that give us a reason to be.
Because of that, don't feel surprised if we decide a new Sticker Star like Paper Mario game looks terrible from the reveal trailer. Or if we tear Nintendo to pieces for reviving Wii Music for a new generation.
And that should be everything important here. So, choose a Nintendo Direct livestream to watch from the list below:
Nintendo of America's version
https://www.youtube.com/watch?v=9-njR2hNfHA
Nintendo UK's version:
https://www.youtube.com/watch?v=z870TX-BHB4
Nintendo Co Ltd.'s version:
https://www.youtube.com/watch?v=rPF86bJzebk
And join us as we take a look at the biggest Nintendo Direct of the year. This is going to be great!
Liveblog
But yeah, I'm done here for now. Go chat among yourselves if you want!
Still, maybe they'll come in 2018-2019 instead.
And so that ends another Nintendo Direct. No Smash is disappointing but expected. However, I expected a few more Nintendo franchise reveals here too. Wario Land anyone? Luigi's Mansion? Donkey Kong Country? Mother? F-Zero? Tons of possibilities.
Mario series amiibo seem to give you special costumes and powers. Okay.
Hmm, you can enter paintings too. Wonder what that reminds me of?
A Donkey Kong style challenge? Huh
Is that a giant scary eel? Oh god...
Snapshot mode looks useful.
High scores for mini games is cool.
So amiibo can be used to reveal moons on map. Okay.
Tons more kingdoms appearently, including tropical islands. Hmm...
Seaside Kingdom looks good too.
Shiveria in the Snow Kingdom? How expected.
Mario isn't too happy about Peach marrying Bowser? Yeah, I figured. And neat that Cappy is rescuing his sister too.
Super Meat Boy Forever eh? Wonder if original will come to Switch?
SteamWorld Dig, Golf Story, Nine Parchments. Neat.
Have to admit, the buff Kirby bosses look hilarious!
Kirby Star Allies now. Neat I guess.
Goes live after presentation though. That's nice.
Lola Pop looks good, but we knew she was an addition ages ago. Same with stage and custom controls.
ARMS update. Yeah, we know what is in this update.
A demo will be available right after todays Direct. Game coming 2018.
Do like how you can challenge anyone to a duel here. Useful.
Project Octopath Traveller. Okay.
Art style looks very unique, I will say that much.
Square Enix Switch exclusive RPG. Okay...
NBA and WWE 2K18 coming soon.
Neat that the Divine Beasts are getting armour based on them.
Zelda Champion amiibo coming November 10th.
Arcade Archives stuff now? Is this like NES Classic series?
Flip Wars update? Does anyone care about this game at all?
Doom and Wolfenstein 2 the New Colossus are coming to Switch. That's pretty awesome.
Looks fine, but everyone knows what is in this game. Zelda gear is neat though.
The Elder Scrolls V Skyrim. Cannot say much about this one.
We aren't Americans Nintendo. Add the u in these names where it belongs.
Arena of Valor? Okay then. Wait, is this another Color Splash?
Onto Rocket League now. Good.
Morphies Law? Funny name, though the trailer voice isn't making this sound exciting. Again, get a new narrator.
But the original was okay, so this could be fun for some people.
Snipperclips getting new content. Hmm, not sure how many will care for this.
Fire Emblem Warriors next. yay?
Good for Splatoon fans I guess.
The game is coming December 1st.
Please... just end this trailer. It is so dull to watch. Needs some lively music or something.
Gonna tune out until a new game gets featured here.
Everything looks good as a game, but it is presented in such a boring way in this Nintendo Direct...
Sorry, I just am not feeling this narration or voice acting. Just seems very dull...
Trailer narrator is really boring though. Could liven this up a lot...
So people live on top of giant creatures called Titans in a world based around a giant World Tree? Unique setup...
Starting with Xenoblade Chronicles 2...
Etrian Odyssey seems decent enough. As does the Ace Attorney game getting shown off afterwards.
Super Famicom Edition New 3DS XL. Okay.
Metroid Samus Returns release coming soon. Again, looks amazing.
Oh, so a game with the best mini games from all 10 console titles coming to 3DS. That sounds really cool!
Mario Party: The Top 100?
Though I think it should have been released on 3DS way before this...
Minecraft coming to New Nintendo 3DS. Interesting.
I mean, it is not a bad game. But it does not appeal to the people who watch these Directs...
Style Boutique? Does anyone care about this in Nintendo fan world?
Layons Mystery Journey now. Looks fine, though not interesting.
That one is coming November 3rd.
Well, bosses appear in that game too, along with a story mode and online battles. Neat.
Kirby Battle Royale is pretty neat I guess.
Though I really do not care about Bowsers Minions mode. More main mode footage please!
Mario & Luigi remake now. Looks good.
Interesting. New Pokemon in a third version? Very cool...
New Ultra Beasts appearing in Sun and Moon! UB Burst and Assembly!
Well, you do get Celebi in gen 7 for purchasing the Gen 2 remakes...
Dusk Form Lycanroc. Yawn.
New map areas get less focusing than clothing items, really?
Necrozma merging with Solgaleo/Lunala I guess.
Pokemon Ultra Sun/Moon first!
Well that was embarassing. Forgot to activate the liveblog feature for the post...