Nintendo Announces Nintendo Direct for March 8th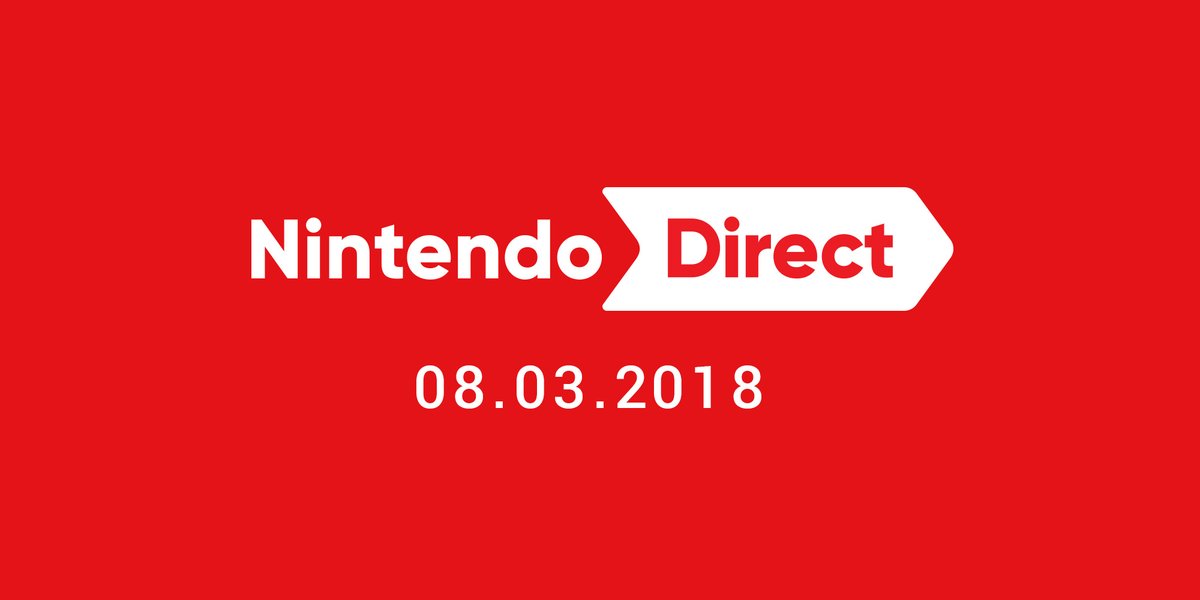 Well, it's finally here. After weeks of people asking about another Nintendo Direct (and crazy predictions to the same), Nintendo has announced that the next one will air on March 8th at 5pm ET. This Direct will be 30 minutes in length, with announcements for both 3DS and Switch games (including Mario Tennis Aces for the latter).
Here's the announcement about it on Nintendo's Twitter page:
Tune in 3/8 at 2pm PT for a Nintendo Direct featuring upcoming #NintendoSwitch and Nintendo #3DS games, including new details on #MarioTennis Aces! https://t.co/SVhHvsfKkn pic.twitter.com/4oOiVGD001

— Nintendo of America (@NintendoAmerica) 7 March 2018
As well as the related ones by Nintendo UK and Nintendo JP:
#NintendoDirect is coming! Tune in on March 8th at 22:00 (UK time) for half an hour of information about upcoming #NintendoSwitch and Nintendo #3DS games, including new details on #MarioTennis Aces.

👉 https://t.co/TWYHxRJiPt pic.twitter.com/ENyfzbcTRb

— Nintendo UK (@NintendoUK) 7 March 2018
3月9日(金)朝7時より「Nintendo Direct 2018.3.9」を放送します。『マリオテニス エース』など、Nintendo Switchやニンテンドー3DSのソフトに関する情報をお届けします。 #NintendoDirectJP https://t.co/qqEgOOpVgg

— 任天堂株式会社 (@Nintendo) 7 March 2018
It's pretty big news all round and offers the potential for quite a few interesting announcements. Indeed, as one look at social media will prove, it seems Nintendo fans have taken the announcement and ran with it to mean anything and everything is coming to the console. Super Mario Odyssey DLC? Yup, some people are even saying a Luigi's Mansion themed kingdom could be included. Pokemon Switch? Again, people are predicting it could happen here.
And from Smash Bros to Fire Emblem to god knows what else, the predictions are flying thick and fast. Hell, there are so many at this point that the 'leakers' behind them are calling each other out on sites like Twitter!
As for us? Well we'll just keep quiet and see what tomorrow brings. It's Nintendo, it's 2018 and it's a console that needs new announcements, so we're sure whatever does get shown is going to be amazing all the same. Besides, why hype yourself up over Smash and Pokemon when you can just wait and be pleasantly surprised if it happens? It doesn't seem worth it to us.
But still, what do you think about the announcement? Are you looking forward to the Nintendo Direct tomorrow? What crazy games and reveals do you think Nintendo will make there?
Post your answers to these questions (and more besides) here in the comments or on the Gaming Latest forums today!