New GoldenEye 007 Mod Changes Bond's Adventure to a Mario Game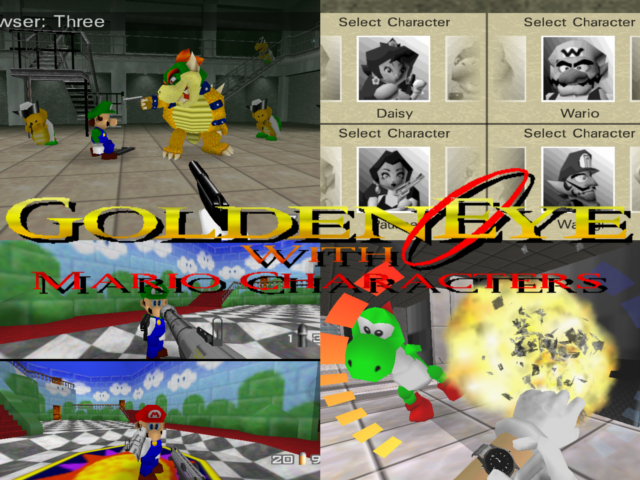 Over the years, Mario has been in a wide variety of video game genres. He's been in platformers of both the 2D and 3D varieties, as expected from the character. He's had a role in racing games via the Mario Kart series and party games via Mario Party.
And well, where sports spinoffs are concerned, he's no slouch there either. From tennis to golf and even horse racing, the plumber and friends have seemingly done it all.
Well, almost all of it. That's because even now, there's one genre Mario hasn't stepped into. Namely, the First-Person Shooter.
Oh sure, he's been in a lightgun esque game in the form of Yoshi's Safari, Mario + Rabbids has gun style weapons and the various anime adaptations sometimes have realistic firearms in them:
But as far as actual gunplay goes, Mario's experiences are limited. It's like Nintendo just doesn't see the potential of Mario and friends in an FPS title.
However, that doesn't mean the fans can't do so here. Oh no, as the title suggests, GoldenEye 007 for the N64 has now been modded into a Mario title, complete with all the characters being replaced with Mario series ones. So now you can get involved in deathmatches starring Mario, Luigi, Peach and Bowser:
Or blast your way through military bases filled with Koopas and Toads like something out of a bad Paper Mario fan fic.
Heck, it even has classic Mario 64 levels as arenas, like Big Boo's Haunt and Bob-omb Battlefield!
It's great fun, and a nice little mod for those people interested in a somewhat different take on the old classic. Oh, and it works on consoles too via the Everdrive. That's nice to see, especially given how other mods (like most Super Mario 64 hacks) are too technically advanced for the actual systems they're based on.
So yeah, give it a go if you think it sounds interesting. It could certainly provide a fresh take on both Bond and Mario, that's for sure!
Source:
You can now play GoldenEye 007 with Mario Characters (N64 Today)