A MMO Version of The Legend of Zelda The Wind Waker is in Development!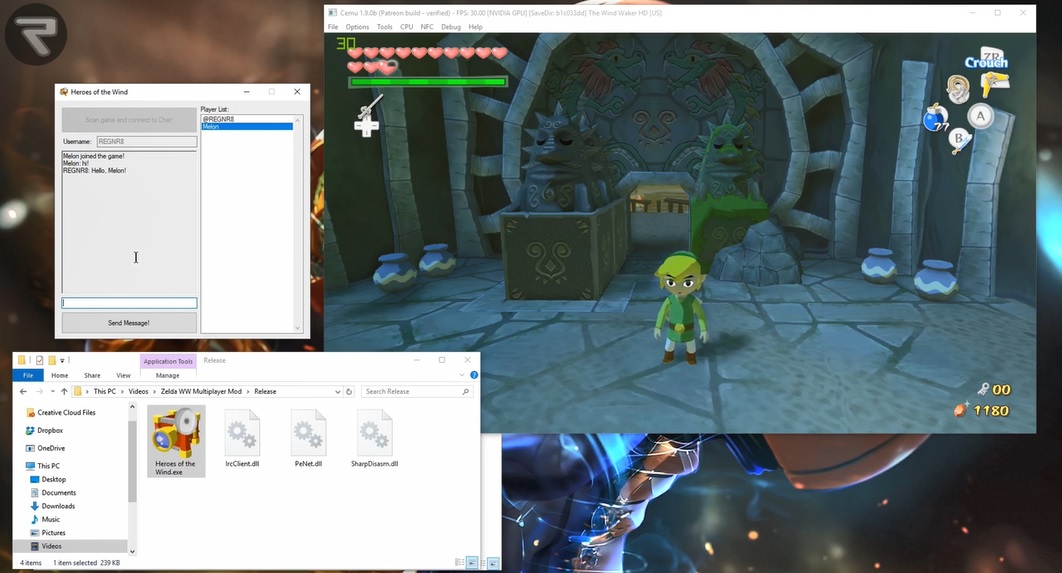 You may remember how a week or so ago, we posted about a Breath of the Wild multiplayer mod in development for CEMU. This mod had pictures of multiple Links on screen, a shadow Link battle and all kinds of other content. The works basically. To the point half the mainstream media ended up writing about it.
Unfortunately, it also turned out to be fake. As you can find out in our follow up article or REGNR8's video.
But hope isn't lost for multiplayer Zelda modding! Oh no, it now seems there is a real Zelda multiplayer mod in development!
This mode (based on The Wind Waker and called Hero of the Winds) aims to turn the game into a full blown MMO with item sharing and co-op multiplayer!
So here's a video discussing the mod by REGNR8:
As you can tell, it's still in its really early days at the moment. Players don't exist in the same world. Standard co-op multiplayer features don't exist. And for the most part, things require a third party application to get working.
However, some aspects of the game do exist even now. For instance, you can send rupees to other players by pressing a button in the bundled app. This acts exactly like you'd expect, with the rupees coming from your wallet and ending up in the other person's.
Additionally, it also seems to be setting up a system where you can gift other items (like bombs and arrows) to them, and comes with a nice built in chat system so you can view players online and talk to them about the game.
It's an intriguing start for a system like this, and certainly shows promise.
But its creator (Melon Speedruns) cannot handle this alone. He needs help getting the game fully working with the system, as well as making it so multiplayer can interact in the same version of the Great Sea.
And that's why it's putting this news out there. He hopes that people will join him to improve on the setup, and eventually turn The Wind Waker into a full blown MMO with all the features of games like World of Warcraft. Or something similar.
So check it out, and maybe offer him your assistance if you can give it. Because if this project gets completed, it will be the biggest revolution the Zelda series has ever seen!
Thank you.