Miiverse is Shutting Down on November 8th 2017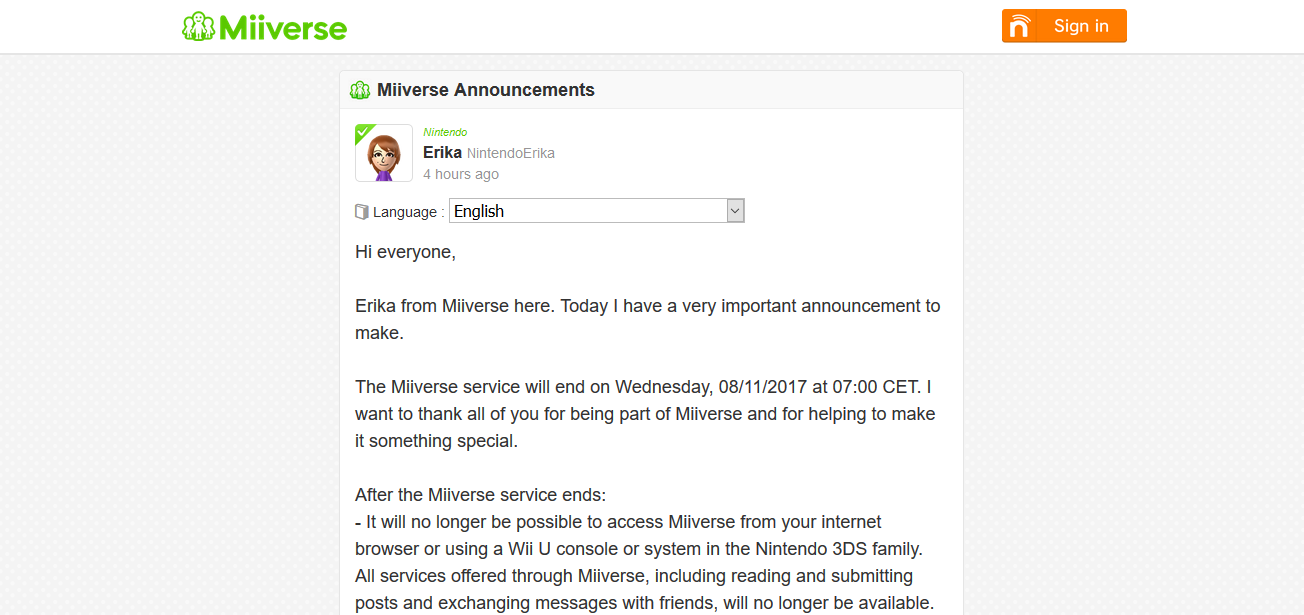 Back when the Wii U was announced, Nintendo launched a service called Miiverse. Designed as a sort of Twitter like social media site for console owners, the system was integrated into games in order to give players a way to share messages, screenshots and pictures about them with other fans. It was a pretty big part of Nintendo's marketing, and ended up being one of the main hooks for the Wii U system.
Unfortunately, Miiverse didn't make it over to the Switch. And now as Nintendo have announced, it seems the bell has finally tolled for the system at long last. That's because on November 8th 2017, Miiverse will shut down for good.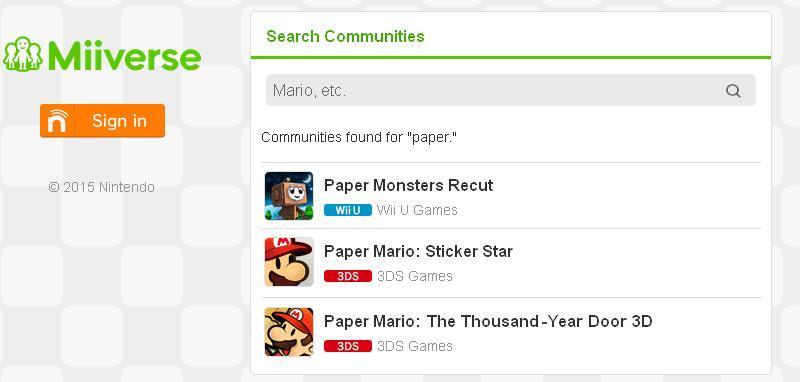 Which in turn has various effects on Nintendo's games. For titles like New Super Mario Bros U, it means that Miiverse messages don't appear in game while you're playing, nor can you leave your own after a level. This makes the games feel incredibly quiet for those used to the Miiverse setup.

And the effects don't end with visual ones either. Oh no, while Super Mario Maker level sharing will still work (since only the comments depend on Miiverse), level sharing for Super Smash Bros for Wii U and Mario vs Donkey Kong will lose the ability for user level uploads in general. A full list of these affects can be seen here on their site:
All Wii U and 3DS Games Affected by the Miiverse Shut Down
It's a pretty big loss for a lot of games really. One that's going to wipe out a large part of the Wii U's legacy.
But why is it happening? Why is Nintendo shutting down Miiverse anyway?
Well I think there are multiple reasons here. Firstly, Miiverse is far less popular than other social media platforms. It's exclusive to people who own the Wii U or 3DS (hence already play the games they're posting about), it's not easy to find content from online and generally people visit it far less often than Twitter or Facebook.
Because of this, it doesn't make sense to focus on it so much. Why advertise your games to a small community of existing fans when you can let your fans advertise them to millions on larger social media sites? And so that's what Nintendo did. You can see a good illustration of the logic in Arlo's fantastic video here:
Yet that's not the only reason for closing it down. Oh no, there's also the small issue of resources. Put simply, it's a costly, time consuming process to run and moderate social media website.
Why is this?
In part, because Nintendo didn't want to run a free for all like Twitter or Facebook. They wanted a heavily moderated experience where offensive content would be few and far between.
Problem is, that requires human moderators. Lots and lots of human moderators.
And given that Nintendo doesn't trust volunteers to moderate its communities… that means paying people to do the work. Quite a few people actually given Miiverse's size. Yeah, it's not Facebook scale, but it's big enough that a team would need to be working round the clock to monitor reports and remove rule breaking content whenever it pops up.
So, when you add the resources needed to host it and the technical effort needed to keep it up and running… Well, you can see that Nintendo would rather spend their resources elsewhere.
But still, every cloud has a silver lining here. And in Miiverse's case, it's that Nintendo is at least kind enough to let you take your work elsewhere.
Yep, just log in before it shuts down and you'll be able to download an archive of your work. So, if you've got a great picture you're proud of, or have used for various entertaining screenshots of whatever game you're playing… well you now have the opportunity to host it somewhere else. That's better than with a lot of social media sites or services. Most usually just close their doors and leave millions of people's work to the abyss.
It also means Archiveteam may have a slightly easier way to get the content and make a whole archive of the site available too. Cause Miiverse is a site they're likely going to be backing up too.
Still, what do you think? Are you disappointed that Miiverse is closing down? Do you remember any good times you had with the site?
Or is the site a relic that arguably needed to be replaced for Nintendo to move on?
Post your thoughts on the matter in the comments below!
Source: