March 8th Nintendo Direct: The Gaming Reinvented Liveblog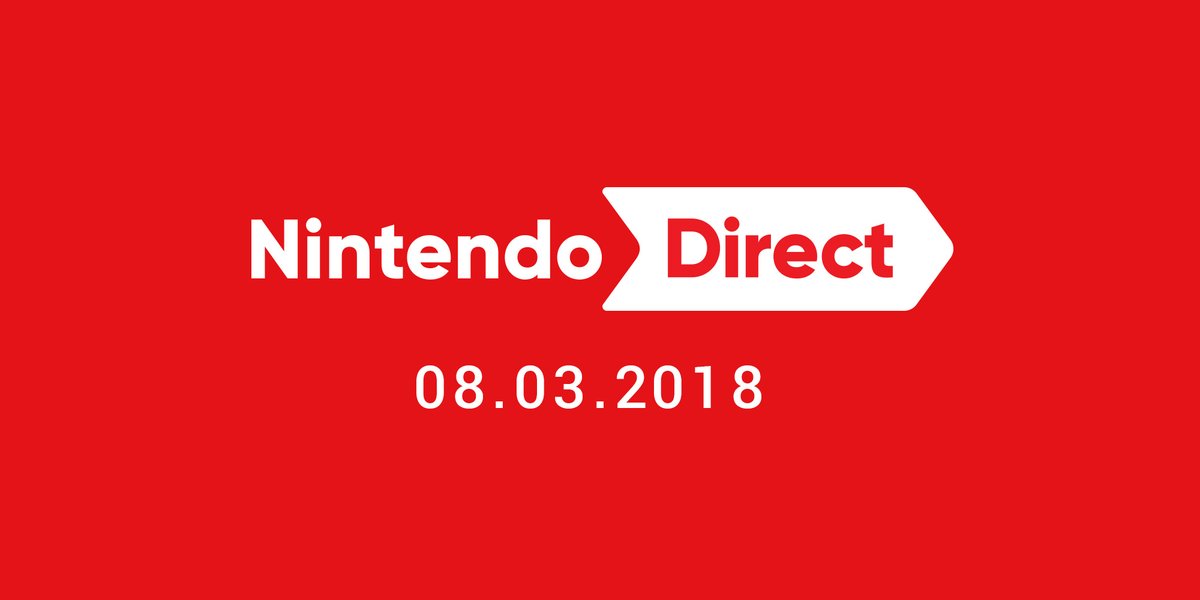 Well, it's nearly here! In just a few moments time, Nintendo's next Nintendo Direct will air online, covering various announcements related to their 3DS and Nintendo Switch games.
Which means it's time for another liveblog! Yep, just like before
Hence as a result of this, we've decided to run yet another liveblog for the reveals. Yep, just like before, we'll be talking about every single announcement as it comes in. Whether it's Smash Bros or Wario Land, Pokemon or F-Zero, we're covering the lot here.
So, while we don't have any predictions right now, we hope you'll enjoy our coverage of the event. Sit back, turn on whatever Nintendo livestream you want to watch this on and check out our thoughts on the event right here.
https://www.youtube.com/watch?v=OCCIlO8FR_o
https://www.youtube.com/watch?v=CBMxanh8llk
https://www.youtube.com/watch?v=G8OkQ5qzNgQ
Because this is gonna be another great year for the Switch. Don't you forget it!
Liveblog
Yup, Super Smash Bros is coming to Nintendo Switch in 2018. With Inklings as new characters. It begins.
Honestly, I wish Zelda Breath of the Wild had story DLC like this. A bit more... original.
Ah, so a new story mode in Splatoon 2. Interesting.
Splatoon 2 is getting an update with near gear, new stages and rank X. Cool.
South Park the Fractured Plus Whole now? Cool, it's like a real Paper Mario game is on the system!
Little Nightmares is coming to Switch too. The hits just keep on coming eh?
Crash Bandicoot N Sane Trilogy too. Holy hell.
Undertale is coming to the Nintendo Switch. Holy crap, that'll sell a lot of Nintendo Switches.
It's also coming to 3DS for some reason.
New Donk City levels in Captain Toad look good though.
Captain Toad Treasure Tracker is on Switch now. Neat, more people needed to play that game.
Okay, seems the story mode does mean interesting courts. Neat.
How does a Chain Chomp play tennis anyway?
Hmm, hope Mario Tennis Aces has more interesting courts this time. That was a big problem with Ultra Smash.
So your racquets can break now. Neat concept, not sure how well the metagame will like it.
Mario Tennis Aces looks good. Seriously, look at that grass!
Welp, it's onto Mario Tennis Aces!
New Dark Souls Amiibo. Does that mean Mario Maker will get a Dark Souls skin?
Oh hey, Dark Souls has Amiibo now.
Travis Strikes Again next.
More details on Octopath Traveller. Okay.
Oh hey, that leaked Sushi Striker for Switch game gets officially announced. Neat.
Don't care about the new Switch stuff, but I might buy this just because I missed out on it the first time.
Okami HD on Switch? Oh come on, how many great announcements can they make today?
Oh, and that demo was datamined. They do know that, right?
Maybe Magolor is gonna make it in too.
Oh, new updates. With Rick and co from Dreamland...
Kirby Star Allies next. Mentions King Dedede and Meta Knight as playable. Knew this from the leaks though.
Yes, it is good. Damn good so far.
Boss rush mode sounds good.
Luigi's Mansion has been remade for 3DS. Holy crap, I need this.
Onto Detective Pikachu now. Neat, but not a big reveal.
Still, it does have a Bowser's Jr inspired Bowser's Minions mode here.
What happened in Partners in Time?
A Mario & Luigi Bowser's Inside Story remake now? Okay...
Some kart combat game now. Dillon's Dead Heat Breakers. Miis + Dillon. Neat, but not as cool as WarioWare.
Either way, it looks great. Day one buy for me, July 27th!
It's started. 18 rated games included apparently.
Well, it begins soon. Is anyone excited for this one?