Grand Theft Auto V Ships 75 Million Copies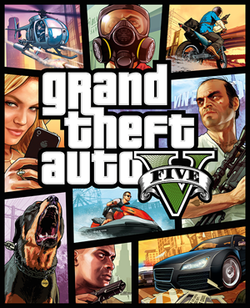 With a critical average of 97% and acclaim from just about everyone, it can't be denied that Grand Theft Auto V has done exceptionally sell since it's released in 2013.
And now, despite 3+ years having passed since then, it seems things are still going amazingly for this game.
Why?
Because as the title suggests, it has now 'sold in' 75 million copies since its release date.
And trust us, that's one amazing sales record. After all, 75 million copies puts it above:
The original Super Mario Bros on NES (40 million copies sold)
Any Call of Duty game ever made(best selling one sold 26.5 million copies)
Pokemon Red and Blue (23.6 million copies)
Tetris on Game Boy (35 million copies)
And The Sims 2 (20 million copies)
That's incredibly impressive. Indeed, it's so much so that with just 7 million more copies it'd outsell Wii Sports, and with another 25 million it'd outsell all versions of Minecraft combined. So how did it do so well?
Well, part of the reason is down to the systems it was released on. Basically, Grand Theft Auto V was released for:
PS4
Xbox One
PS3
Xbox 360
PC
Over the three plus years since launch. As a result of this, it's quite likely than many people bought the game multiple times in a row, so they could play one version on a computer and one on their new 8th gen console. Or whatever other combo of systems they wanted it for.
Add the fact the game had new features and changes for later rereleases, wasn't replaced in a year (like Call of Duty or FIFA) and had that Call of Duty Online mode included, and you've got a game whose sales could reasonably build up over time.
You also have to keep in mind that these are sell-in figures, aka those shipped to shops. So technically the sales to end players could be a tad lower than the 75 million.
But it's a massive success none the less.
So congrats Rockstar! You managed to make a game that's sold more copies than the entire population of the UK and Ireland combined. Talk about a record!
Source: