Every Single Object from Portal Has Been Remade in Super Mario 64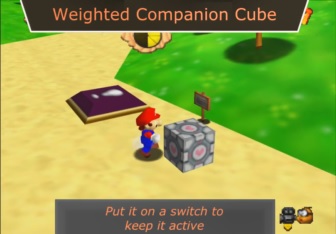 Here on Gaming Reinvented, we've already featured a lot of ROM hacks made by Kaze Emanuar. That's because ever since he finished Super Mario 64 Last Impact, the guy's basically been on a roll as far as cool Mario 64 mods are concerned, having built everything from a clone of Mario Run to a Mario Maker esque editor to even a full online system for the game. He's like a one-man ROM hacking machine.
But while Super Mario 64 Online and the Legend of Peach are amazing, even his smaller creations have actually been pretty damn good. And it's one of those creations we're talking about today. Why? Because Kaze has basically replicated every single object from Portal (Valve's puzzle FPS/platformer hybrid) in the Super Mario 64 engine.
Every single one.
Yep, from the famous cube to the turrets and anti-gravity beams, every single element you can imagine from Valve's series is now included in a Mario 64 mod. Here's a video of this stuff if you don't believe us already:
It's a pretty damn good series of recreations too. Oh sure, it's not perfect (cause it's a Mario 64 hack rather than a Source Engine title), but it's still more impressive than a lot of stuff we've seen in Mario 64 hacks over the years.
And when you consider Kaze already remade the portal gun mechanic (which is included in the above video), it makes you wonder how long it'll be until a full Portal game is made with these objects. After all, all you'd need to do is recreate the battle with GLADOS and you'd be able to remake the entirety of the first title no problem. That'd make for a very interesting challenge for everyone's favourite plumber…
But still, what do you think of it?
Are you impressed that so much of Portal has now found its way into Super Mario 64? Do you think you'd play a full-fledged Portal themed ROM hack starring the Italian plumber?
Say what you think about it here or on Gaming Latest today…