Diablo 3 Eternal Collection is Coming to Nintendo Switch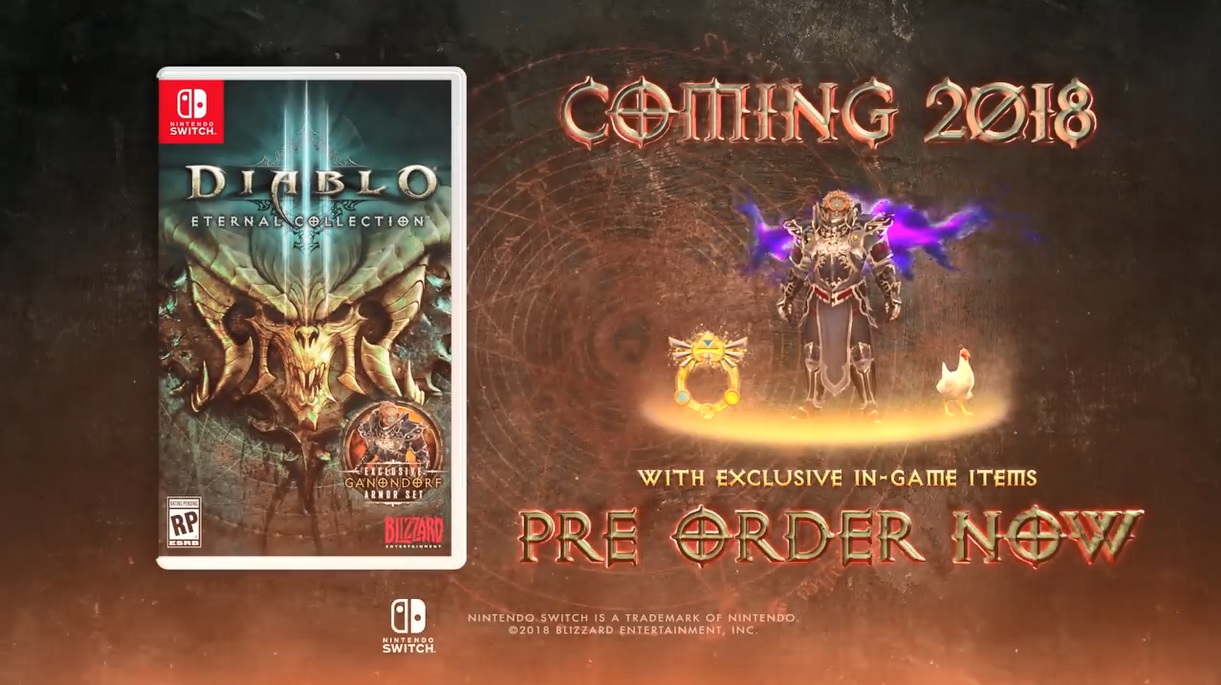 It's been leaked for a few days now, thanks to a Forbes's journalist careless posting their article about the game before the embargo breaks. But now, Diablo 3 Eternal Collection has finally been announced for the Nintendo Switch, complete with extra modes and Nintendo related content.
Here's a trailer showing it in action:
As you can see, it looks as good as you'd expect for a game like this, and proves the Switch can handle it just fine.
But as per usual, this isn't just a straight port. Oh no, Nintendo related extras have been added to the game too, including outfits based on the Legend of Zelda series!
Yep, this time around you're able to get Ganondorf's armour, as well as a Cucco pet, Majora's Mask style wings and a Triforce portrait. So if you're a fan of the chickens from the Zelda franchise… well you can now have one in Diablo 3 as well.
And that's not the only thing you can have either. No, all the extras added in the expansions for the original version are included here too. These include the Reaper of Souls expansion, Adventure Mode and the Rise of the Necromancer pack, which add new character classes and modes respectively.
There's also some (non Nintendo related) Switch only extras too. For example, you can now load your profiles on a friend's console to, letting you pick up where you left off regardless of the system you're playing it. It's a neat touch, and (along with the other extras mentioned above), definitely makes this feel like a definitive version of the game.
So if you're interested, check it out. Watch the video, read up some of the extras and maybe give the game a shot when it's released on Switch in Autumn 2018. It's a good intro to the series for Nintendo fans without much experience of it, and may be worth trying out for others in general.
Source:
Diablo 3 Eternal Collection Revealed for Nintendo Switch (Gamespot)