Devs Release Demo of Game Boy Color Game After 15 Years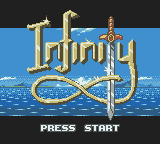 Well, this is certainly unexpected! 15 years after Infinity was cancelled for the Game Boy Color, the dev team have released a demo for the game! Here's a trailer showing the game in action:
So yeah, it's a pretty neat looking RPG for the Game Boy Color. It's got some nice graphics, large areas to explore, 100s of items to use in your quest… basically, it would have been a great game had it been released back in 2001 or so.
What's more, this isn't any normal demo. Oh no, this one is apparently 90% complete. So instead of cutting off at a certain area, it's pretty much the full game. Just you know, with a few extra bugs and glitches to deal with along the way.
Either way, Infinity can be downloaded from Affinix's website. So if you want a new Game Boy game to try out, go get it now. It's also a good choice for any Game Boy Color homebrew devs too, since they're releasing the source code as well. That's pretty nice of Affinix if I do say so myself, even if said code can only be used non commercially.
But what do you think? Are you interested in a new Game Boy Color game in 2016?
Source: