Why Team Flare Look like Great Pokemon Villains

In a recent issue of Coro Coro Magazine, the new villain team for Pokemon X and Y were revealed.  Named Team Flare and dressed in stylish red outfits, they're considered as just after the money.  No big world-changing schemes, no well-intentioned extremism, just a standard mafia/gang setup.  But while some people seem a bit disappointed by the reveal, I personally think they could be fantastic villains.  Here's why.
1. They're more down to earth/'realistic' (in their goals), especially for the setting
Okay, money is hardly a deep motivation…
https://www.youtube.com/watch?v=JoYWdHe4tQ4
But honestly?  It's a very practical and realistic one.  Indeed, it's obviously the one behind about 90% of criminals and criminal organisations on the planet.  So it's kind of nice to see a Pokemon villain team that steps back and just goes for something nice and simple for their motivation.  A group that has no over the top lofty premises they're trying to fulfil, no mission to remake the universe in their image, just a purpose of plain greed.  It's simple and it makes them stand out as a more feasible threat than most of the other recent teams.
Additionally, I think this is probably the most realistic thing for a villain team set in Pokemon alternate universe Europe.  As someone who lives in Europe in the real world (albeit not France), I have to say we don't really have the same kind of lunatics as some places do.  Okay, we have some extremists with morally bankrupt goals, but generally any criminals we do have tend to be the more 'practical' kind who are simply interested in economic gain rather than some grand vision.  Heck, PETA is basically ignored over here altogether (despite technically having European branches), so I guess that sort of group is less of an issue.
Either way, it's nice to have a villain team who are actually somewhat realistic in their goals and aren't portrayed as generic JRPG villains trying to destroy the universe or whatever.
2. They look somewhat credible without the ridiculous costumes
Because I'm sorry, but the last few teams were not particularly credible in the costume design sense.  Seriously, just LOOK at your average Team Galactic or Team Plasma member for a minute; they look absolutely ridiculous.
Above: These are not the most threatening sets of villain designs on the planet…
Come on, a villain team dressed like medieval crusaders?  Really?  A team where every member had bowl cuts and looked like they'd just stepped off the set for the next Jetsons movie?  I mean, it's original… but it's not a particularly threatening look for what are supposedly criminal masterminds and a feared terrorist style group.   Both the police/authorities and any of your enemies would just laugh their heads off after one look at these guys.  Same with Team Magma/Aqua to be honest.
Above: These guys look a bit more… practical in their dress sense.
Team Flare look… somewhat normal.  And to be honest, that's much better for a villain team you want to be a credible threat.
3. It's a villain team of type specialists at last!
Assuming that Flare in their name also refers to a love of fire types and using them in battle.  Okay, we did have Team Magma and Aqua back in gen 3… but did they actually stick to their names much? Or even pick appropriate Pokemon?
Nope.  Seriously, look at the vast, vast majority of Pokemon used by the teams…  Poochyena, Golbat… hang on…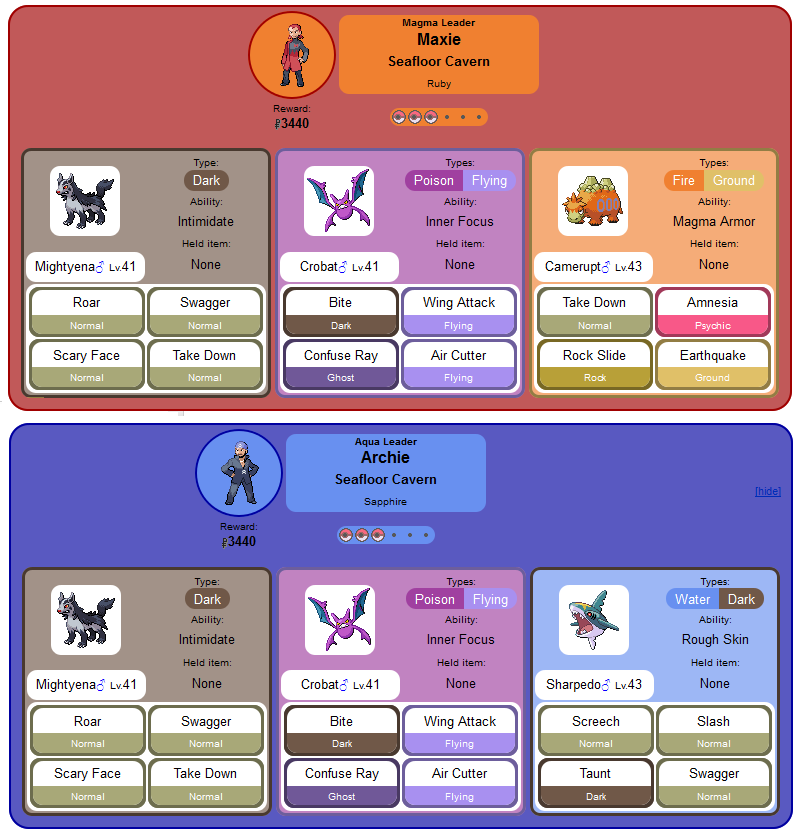 Above: Why didn't either of these guys use more Pokemon based on their teams name?  Data is from Bulbapedia pages for Archie and Maxie.
Yeah, they had barely ANY Fire or Water Pokemon whatsoever!  Even the leaders (Archie and Maxie) had EXACTLY ONE Pokemon of the type their team was supposedly based around (a Sharpedo and a Camerupt specifically).  For teams supposedly interested in the ocean/land and who wanted to expand one or the other, they sure didn't pick good Pokemon to represent themselves.  Heck, weren't these guys supposedly well-intentioned/'good' in some games? Why would then they pick Dark and Poison type Pokemon like every other villain team on the planet?
Here's hoping Team Flare buck this trend and actually stick to their guns (or more precisely, name) when it comes to Pokemon selections.  That they use more than just more Poison and Dark type Pokemon as if the audience is too dumb to know who to boo and hiss at otherwise.
So that's why I think Team Flare look like a pretty good villain team for Pokemon X and Y.  They're somewhat more down to earth and realistic with plausible motivations, they're dressed in a way that inspires… well, more respect than random burts of laughter and genuinely seem like they could be a more interesting team than some of the last ones.
What do you think about these villains from Pokemon X and Y?