WayForward Developing DuckTales Remastered for Wii U eShop!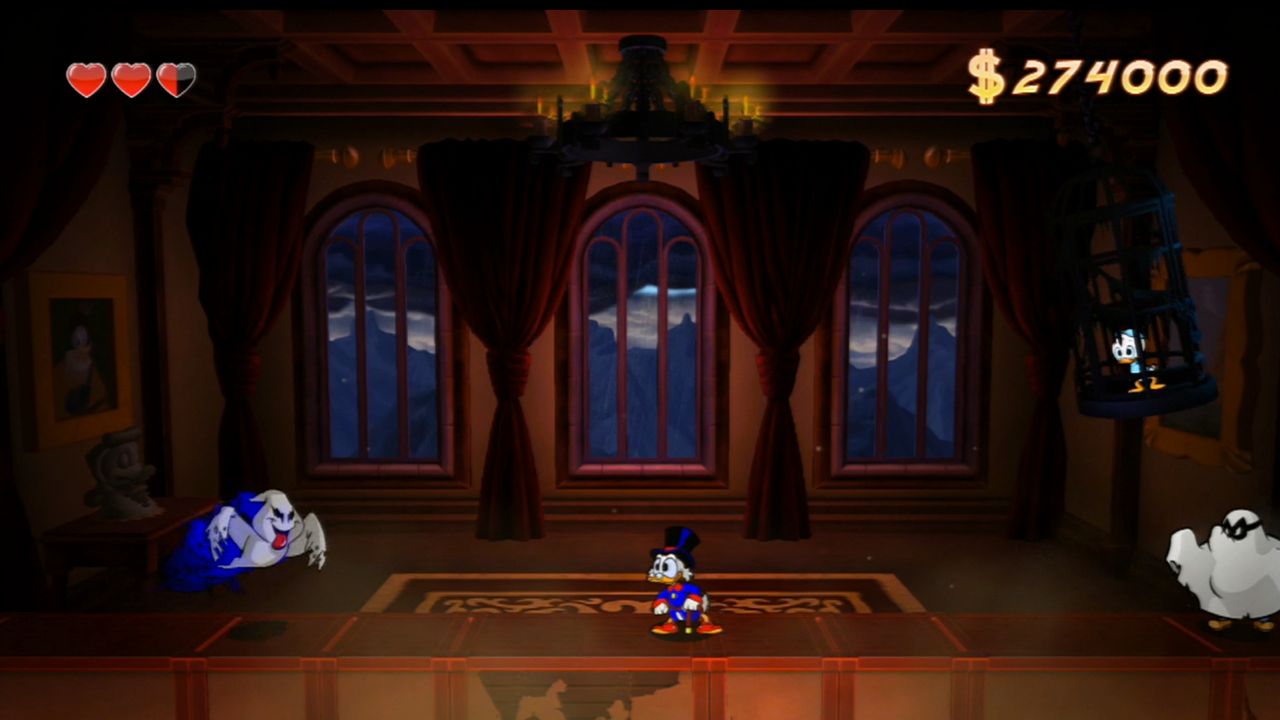 Okay. I am not kidding here.  They have quite literally announced a new Duck Tales game for the Wii U (and PS3, Xbox 360 and other systems).  It'll be available on the eShop, and here's the first trailer for it:
So what is this game?  It's a reboot of the classic Duck Tales series Capcom worked on back in the days of the NES, except now with beautiful HD graphics and all the trimmings of more modern games and platformers!  So in other words, a remake of the original with remixed music, redone graphics, new levels and missions and stuff in addition to the old ones and god knows what else!  Here's the official press release for it:
BOSTON – March 22, 2013 – Capcom, a leading worldwide developer and publisher of video games, ended its panel at the PAX East convention today with the announcement that three titles from its revered catalogue – DuckTales, Dungeons & Dragons: Tower of Doom and Dungeons & Dragons: Shadow over Mystara – are making a welcome return on multiple platforms in the coming months.

Originally released in 1989 on the Nintendo Entertainment System, DuckTales was widely acknowledged as one of that generation's seminal platform titles. Taking its cue from the Disney cartoon series of the same name, DuckTales Remastered follows the adventures of Scrooge McDuck as he explores differently themed worlds to collect their treasures and become the world's richest duck.

DuckTales Remastered has seen the development team take the levels and layout from the original 1989 release as a foundation before expanding upon them to significantly enhance the gameplay experience but where this update truly impresses is its graphics and sound. All of the visuals from the 8-bit game have been beautifully re-created as hand-drawn and animated sprites, across a backdrop of luscious, re-envisioned level backgrounds. Furthermore, original Disney Character Voices talent, including some from the cartoon TV series, bring in-game characters to life with charm and wit, while the classic melodies of the original soundtrack are given a modern twist.

Further additions to the original include an all new tutorial level where players can get familiar with the iconic pogo jump and cane swing; while Scrooge McDuck's Museum allows players to track all their stats and compare their progress with others via global leaderboards.

A Disney Interactive licensed property, DuckTales Remastered is being developed for Capcom by WayForward and is scheduled for release digitally on Xbox LIVE® Arcade for the Xbox 360® video game and entertainment system from Microsoft® and PlayStation®3 computer entertainment system and Wii U™ this summer.

As the first modern role playing game, the Dungeons & Dragons franchise from Wizards of the Coast gave birth to numerous products including two arcade titles from Capcom, Dungeons & Dragons: Tower of Doom and its sequel Dungeons & Dragons: Shadow over Mystara. Both these titles are now being re-released with updated HD graphics and a wealth of other enhancements as a definitive double pack entitled Dungeons & Dragons: Chronicles of Mystara. Scheduled for release digitally on PlayStation® 3, Xbox LIVE Arcade for Xbox 360, Wii U and Windows PC in June, the title is being developed for Capcom by Iron Galaxy and will be priced at $14.99/€14.99/£11.99/1200MSP.

Just as in the arcades, up to four players will select their character class before doing battle against the mythical beasts from the Dungeons & Dragons' universe with a mix of melee, range and magic attacks. But now, thanks to GGPO, there's no need to jostle for position around a cabinet as Dungeons & Dragons: Chronicles of Mystara offers seamless drop-in/drop-out online gameplay in one of two modes. In addition to the classic arcade mode with its branching paths and multiple endings, players can utilize the all new House Rules feature and customize gameplay for a completely different experience.

The new extras don't stop there. The Character Visualizer lets players track which characters they and their friends use most often and can help create a more balanced multiplayer dungeon party, or point out which characters are most under-used; with further gameplay stats tracked via a global leaderboard. Dungeons & Dragons: Chronicles of Mystara also includes a Challenge system that sets players in-game goals in return for level-ups and coins which can be spent in the Vault: a treasure trove of unlockables and gameplay loot. Finally, owners of the Wii U version will be able to use the GamePad touch screen to select spells and items with ease, allowing for a more streamlined gameplay experience.
And here are some screenshots of the game:
Really, this is everything you could ever want in a DuckTales remake.  Heck, the very concept alone is something I didn't expect to see in a million years, yet here it is as a reality!  DuckTales with HD graphics everyone!
Best licensed game of all time practically confirmed!  What do you think of DuckTales Remastered?
Source:
http://mynintendonews.com/2013/03/22/wayforward-developing-ducktales-remastered-for-wii-u-eshop-trailer