The Somewhat Disturbing Mario Magazine You Didn't Know Existed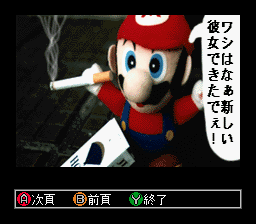 As you may know, the Mario franchise is no stranger to controversy. Oh sure, the platformers and party esque spinoffs tend to be lighter in tone and it's probable the new movie will follow suit, but outside of the mainstream there's some pretty messed up stuff. Stuff like:
A comic where Wario teams up with movie monsters to destroy a bunch of Nintendo characters, and where Mario becomes the world's most evil looking version of Van Helsing to take them down.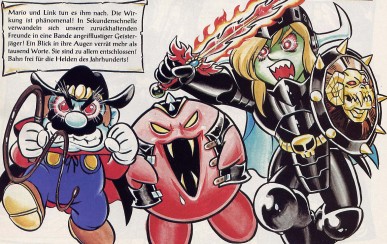 Mario & Luigi Partners in Time in general, with its peaceful setting annihilated by murderous aliens (at Christmas!)
Dimentio's plans to destroy all worlds by backstabbing everyone and killing them mid cutscene
As well as things like these amusing 'fact' cards featuring Mario and co partaking in real world topics. Like say, learning about Hitler and the Holocaust: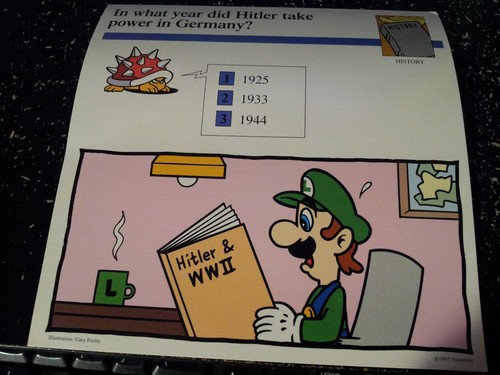 But it turns out even then, there may be something even weirder in the Mario franchise's past. Something that makes even the likes of Partners in Time and Super Paper Mario look like Yoshi's Story. Something which if published today, would get the attention of every moral guardian on the planet in short order.
That my friends, is Shitamachi Ninjō Gekijō. Haven't heard of it? Well that's because a Nintendo licensed 'magazine' released on the Satellaview, an obscure Japan only add on for the SNES. But what's notable about this product isn't its obscurity. It's the fact it's probably the only example of a Mario work featuring 'sexual' content.
Yup. We're not joking.
This is an official Mario product where Mario catches Peach and Toad getting it on, beats the crap out of the former to the point of killing her and goes for a smoke afterwards. That's kind of the setup here. How much ridiculously 'lewd' seeming jokes can we make about Mario characters?
It's like the sort of thing you may expect on some random internet comedy site. Or maybe a dark version of Robot Chicken.
Of course, this being the early 90s and the product having a production budget of roughly £5, it's all done with Mario plush toys in a setup that looks absolutely laughable by today's standards (and which probably wasn't particularly entertaining back then either).
But hey, it existed at some point. Nintendo really did license out the Mario brand to someone willing to make sex and tobacco jokes with it.
And given it was at the same time as the video game violence controversies in the US, it's almost kind of ironic in a certain sense too. Who knew that at the same time that Nintendo was railing against Sega and Mortal Kombat, they were releasing comedy games with Mario characters in sexual situations, tobacco usage and domestic violence? Do as we say, not as we do?
Ah well. Guess no one is 100% consistent, especially not in business.
However, what do you think about the whole deal? Do you find it 'interesting' that this is an official product? How could it have been received if it was released in the US around that time?
Post your thoughts here in the comments or over at Gaming Latest today!
Source: