Opinion; Why Donkey Kong Country Tropical Freeze Looks To be a Fantastic Game

Recently among Nintendo fans, it seems a sort of 'backlash' towards the Donkey Kong Country series has developed.  Perhaps it's because it's a platformer series akin to the Mario or Kirby franchise rather than some weird genre no one cares about, maybe it's because Retro Studios is working on it and the Metroid fans still seem to have a chip on their shoulder towards it.  But enough of that, because here's why I think Donkey Kong Country Tropical Freeze looks to be a great game, and perhaps even a major system seller for the Wii U…
1. It's a true 'next gen' 2D platformer
And by that, I mean it's a game that feels like it's fresh and new, while still maintaining the classic feel of other 2D platform games.
Which quite honestly, is kind of rare in this day and age, where most platformers tend to be super old school throwbacks with the bare minimum of technology or genre expansion (think Mega Man 9 and 10 or at least half of all indie platformers ever made).  Or New Super Mario Bros, which is about as 'new' and 'fresh' in this day and age as Mario Party was by the Gamecube era.
Donkey Kong Country Tropical Freeze looks to be different.  It looks to be artistically ambitious with new content, new characters, settings and level designs.  It's got the makings of an amazing soundtrack, and heck, it even merges in some really dynamic level design, like pseudo 3D sections involving mine carts where half the track explodes, things fly in from every angle and you switch between camera angles every few seconds.  So basically, it's the kind of 2D platformer you always wished would appear back when the Nintendo 64 and Gamecube were out, an expansion on the original Returns and only really rivaled by Rayman Origns/Legends in any of this.
2. The series is one that needs more great games, not less
But it's not just the platforming alone that makes me interested in this game.  Oh no, do you know what else some people need to consider?
We never got a new Donkey Kong platformer for at least five years prior to Returns.  Or prior to Jungle Beat.  And heck, that doesn't really count either, because Jungle Beat was actually intended as an attack on the Donkey Kong Country franchise by a bunch of developers who apparently hated the series 'lore'/world and wanted to 'replace' it:
Koizumi: All the characters outside of Donkey Kong and the banana are completely original. We don't really feel the past look of Donkey Kong was fresh enough for today.
So yeah.  We've got a series that fell into limbo for a good decade since the 'death' of the Nintendo 64, and then Retro decides to revive it with two great games… and people complain?
At least you Metroid fans got three Metroid Prime games in just a matter of a few years, along with Hunters and Metroid Fusion.  Then Metroid Other M a few years later.  Donkey Kong Country's fans pretty much got just scraps for a good ten years.
The Donkey Kong Country series is amazing. The series deserves a revival.  And do you know what?  It deserves just as many new games as your Metroid one got, so please accept that and move on.
3. The soundtrack will be absolutely phenomenal because of the composer
Come on people.  David Wise is returning as composer for the series after more than ten years.  And this is the same person who composed such classics as Stickerbrush Symphony:
And you know, many of those other classic songs you probably remember from the first and second games (and even the slightly more obcure GBA DKC 3 soundtrack).   As a result of this, there's a fairly good chance Donkey Kong Country Tropical Freeze could actually end up with the best video game soundtracks of all time, complete with songs as good as or perhaps even BETTER than the SNES classics.
Isn't that something to feel excited about?  We've already had a wave of amazing soundtracks in the form of those for Luigi's Mansion 2, Mario & Luigi Dream Team Pokemon X and Y, Super Mario 3D World and The Legend of Zelda A Link Between Worlds, and yet we could be getting one that tops even those!  I mean, it's like an old school Nintendo fan's dream come true, the same artist who came up with the songs in their favourite games returning to score a new game in the same series with 21st century music technology!
This is pretty much a once in a lifetime, one in a million opportunity people.  Let's not ignore or be too harsh on it, because damn, as far as game music goes, Tropical Freeze is likely going to outshine damn near anything for the next few months or years.
4. Dixie Kong reappears, and Cranky Kong is also playable
There's also the obvious fact that we get both Dixie Kong as playable (a fan favourite character who was popular in the last two SNES games and was basically the character with the most playable appearances then) and Cranky Kong as a newcomer.  Yeah, Cranky Kong.  The old, somewhat sarcastic snarker with the ability to bounce around on his cane like Scrooge McDuck from Duck Tales!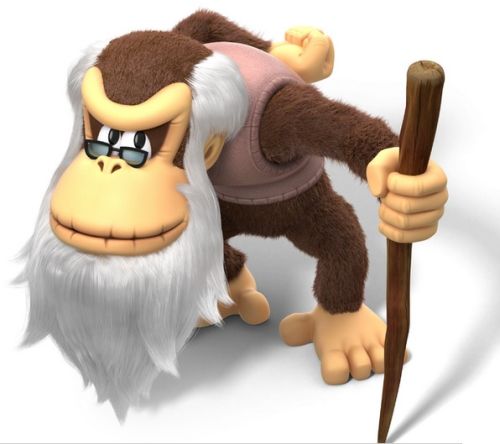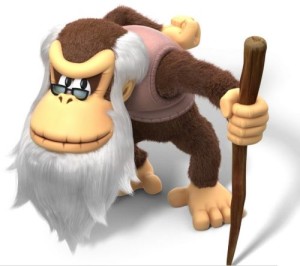 Above: He looks pretty badass in his official artwork too…
If this was absolutely anything else, people would probably be freaking out over the hype from some of this stuff.  It's like seeing a new Mario RPG with the return of Geno as a playable character, along with someone like Fawful as a playable newcomer.  Celebrate it people.  Enjoy the fact we're getting classic DKC characters back, and enjoy the fact we're arguably getting the best playable character cast in the entire franchise.
5. And finally, it's arguably the game Nintendo SHOULD be making
Finally, to cap it all off, I have to say one thing…
If you think Retro shouldn't be making Tropical Freeze, what exactly should they be making?
Metroid?  Oh wait.  They've already made three games and a trilogy compilation, give 'em a break already.
But there's more.  Did you know that every single Metroid game bar the first Prime has been outsold by the majority of the Donkey Kong Country series?
Yep:
Donkey Kong Country 1 sold over 9 million copies
Donkey Kong Country 2 sold over 4 million copies
There were 2.89-3 million copies of Donkey Kong Country 3 sold
Plus at least 5 million copies of Donkey Kong 64
Finally, Donkey Kong Country Returns sold about 5-6 million copies
Contrast with Metroid, and it's kind of obvious which franchise is the real money maker here.  The whole Metroid series?  Had sold about 17 million copies by 2012.  Donkey Kong Country beat that with just the original, 64 and Returns. As in, those three games put together outsold the entire Metroid franchise as released since the NES era.
So why shouldn't Retro and Nintendo make a Metroid game instead again?  What, to sell about half the amount they would of Tropical Freeze?  To attempt to win over a couple of insecure 'hardcore' gamers who likely wouldn't care for the Wii U anyway?  That last one's not a joke either, people constantly act like 'new 3D Metroid by Retro would sell systems to Xbox 360/PS3/PS4/Xbox One fans'.  Except oh wait, the last few such games didn't.  Hunters was meant to capture that audience, yet managed to get maybe 0.5% of the userbase.  Prime 1 and 2 were meant to be games that sold the Gamecube to similar types.  They didn't.  They did really well and were great games, but they didn't cause the 'dudebro' self proclaimed 'hardcore' to go out and buy Gamecubes en masse.
But how about the other suggestions?  Let's look at those too.
We've got suggestions that Retro make a new Zelda game.  Except, they don't need to.  Nintendo EAD already is.  The same people who made the fantastic Link Between Worlds games are already working on Zelda for Wii U.  Your dream Zelda HD game is probably just round the corner anyway.
And while the other suggestions are interesting enough (new F-Zero, new Mach Rider, new Star Fox, new whatever), they're not exactly things that'd sell as well as Tropical Freeze probably will.  F-Zero needs a revival, but it's still a niche series that's never really broke more than a million copies in the best of times.  Star Fox is the same,  And revivals like Mach Rider, while something interesting to consider, probably work better when the Wii U has actually been established and is selling million of units (giving them a potential userbase willing to try something new).
To put it bluntly, Donkey Kong Country Tropical Freeze looks to be a great game, and arguably far more the type of game the Wii U needs than any other that Retro could be working on.  Let's not unfairly criticise it all the time please.