Opinion; Mario and Luigi Dream Team's Best and Worst Moments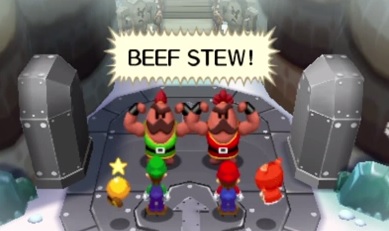 In Mario & Luigi Dream Team, some pretty damn awesome stuff happens.  You've got crazy dream worlds, giant battles with foes you'll never believe and all kinds of other neat things.  But what are the best bits of the game?  The bits I think are better than even the rest of the fantastic game?
Well that's what this list is about.   What I consider the best and worst moments of Mario & Luigi Dream Team.  Enjoy!
The Best
Here's my list of best moments in Mario & Luigi Dream Team.  Spoilers abound, so beware!
5. The Mysterious Fountain
First up on our list of great moments in Mario & Luigi Dream Team, you've got the fountain on Mount Pajamaja.  Why?  Well just try and drink from it…
(see about 20 minutes into the above video if you want to spoiled and see what happens)
Nicely played AlphaDream, nicely played.  I have to say you nearly got me when I first played the game, I nearly believed the trick there and then and panicked…
4. Luigi fights the Zeekeeper
Well, when the battle works without a certain major game breaking glitch anyway.  But in concept and design, the battle is absolutely awesome.
You've got Luigi trying to take on a deity in hand to hand combat.  You've got Luigi using the touch screen and his environment to its fullest extent to pound the boss into the ground (I especially loved how he eventually started lobbing trees and things at the boss or how he picked it up and literally slammed it head first into the floor), and you've even got him flying through different dimensions in zero gravity conditions while the boss tries to slam into him or blow him up with balls of energy.  It's absolutely crazy, and as a boss battle, the concept works perfectly.
Pity about the motion control glitches that sometimes marr the experience.
3. The Massifs Tour Mount Pajamaja
Next on the list, we have the Massifs.  Who are they you may ask?  They're the extremely muscle obsessed, teresterone poisoned tour guides who take Mario and Luigi on their tour up Mount Pajamaja, while acting like a large ham with no indoor voice along the way.
And believe you me, these guys are absolutely hilarious.  They make ridiculous references to strength all the way up the mountain, show off strange overworld abilities that Mario and Luigi have to mimic to get past obstacles, and use the word beef in so many inappropriate and rather strange ways that it often becomes hilarious in just out of place it all is.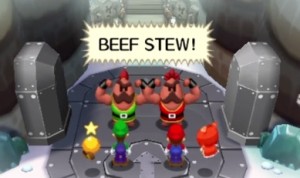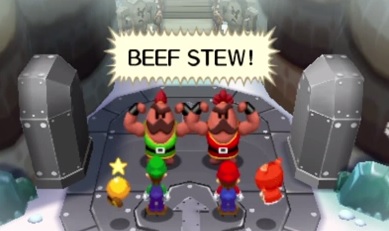 Above: The Massifs are insane, and this makes just as little sense in context.
Did I mention that they're probably the most competent people on the island other than the Mario bros?  Yeah, they manage to climb all the way up an active volcano filled with monsters, and in the dream world, even nearly beat Mario in battle!
Every scene they're in is amazing, and I strongly believe they'll become pretty popular in the US when the game is finally released over there.
2. Mario vs Antasma (final time)
And now, it's onto the last two entries of the list!  But before we begin, I may as well point something out right now.
There are spoilers beyond this point.  So if you don't like them (and don't want to know what the two penultimate bosses in the game are like), stop reading now.
<-- Spoilers start now -->
With that warning cleared up, here's why the final Antasma battle in Dream Team is so awesome.
For one thing, the music is truly fantastic.  No seriously, just tell me this tune isn't one of the best boss themes in the entire series, and arguably on the same level as the final boss music in the last three games:
I mean, it's not even a final boss theme, yet it's still one of the best pieces of music in the game to the extent it'd actually work as one.
But the boss music is only the start of the awesomeness.  For another thing, this is the only battle in the game that actually takes full advantage of the dream world and its capabilities.
What do I mean by this? I mean that it's the only time in the game where you can see for yourself why falling asleep in a dream is so dangerous.  Yeah the idea was brought up all the way back in the last Antasma battle in Dream's Deep, but it was never used at all in the entire rest of the adventure up until now.  This time though, it's used in a clever way as part of the main gimmick.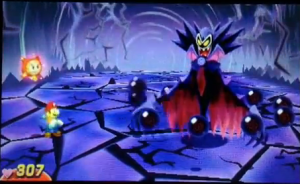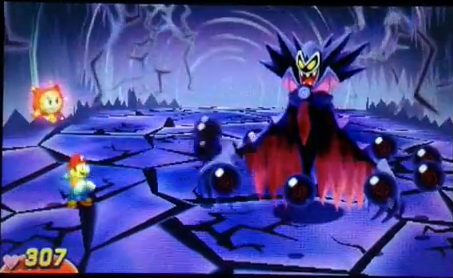 You see, when Mario gets hit by one of Antasma's powerful attacks, there's a random chance he'll fall asleep.  This then transports him to what is presumably his own mind/dream, with Antasma chasing him through a dark void and shooting energy blasts while Mario desperately tries to find the exit in one the pits in front of him (with the gold pit filled with light and coins bringing him out his nightmare and back to 'reality').  It's rather interesting as a new idea, and it actually makes Antasma rather menacing to be honest.  I mean, it shows that he can actually force people to fall asleep and then kill them inside their own mind, sort of like Freddy Krueger from Nightmare on Elm Street.  It makes him an actually scary villain for once, and really adds a new layer to the already interesting dream battle system.
Additionally, his attacks in the 'outer' dream world are quite clever in execution too.  Like how he can turn into a flock of bats and fly at Mario, giving him nightmares if they hit.  Or the one where he chases Mario into the foreground while throwing rings of dark energy to try and blow him up.  Even his hibernation thing is interesting, in how he can literally flip the camera/gravity upside down to screw Mario over as he's counter attacking.
Add how Prince Dreambert actually helps you out through the whole battle (with healing and even celebrations when Antasma finally bites the dust), and you've got an epic showdown that's arguably better than many Mario final bosses.
1. The Final Giant Showdown
Finally, we've got the best moment in the game.  What is it you may be wondering?
Well, in my opinion, it has to be the final giant battle with Bowser.  Seriously, this is one of the most climactic, epic battles in the series, to the point some might even say it'd have made a better final boss than the actual one.
The first thing that makes it so good is the setting and build up.  Remember, you're not just in a final castle or dungeon here, you're inside Bowser's own dreams.  Literally, you're in his deepest fantasies, fighting him on his dream turf and with him having nigh on reality warper powers.  You're actually going into his own mind, taking on his own dream avatar for himself and fighting back against his own desires and wishes in a world which is literally based entirely around him.  In someone's own dreams, they're basically god.  It's like you taking on your worst enemy, and proceeding to completely destroy and humiliate them inside their own fantasies of them defeating you… it's impressive to say the least.
And you're going up against the guy you were playing as in the last game too. Heck, Bowser even says he was the one who invented the whole 'giant' thing!  It's basically Giant Luigi from Dream Team vs Giant Bowser from Bowser's Inside Story.
Add how the set up has Luigi showing him overcoming his fears (he pulls his cap down over his eyes and smirks confidently rather than hiding and shaking in fear like he did prior to the other battles), and the whole thing is setting the perfect scene for an amazing battle.
It delivers a great battle too.  It's super varied with at least five different phases to the fight, it uses all the 3DS's features to their best possible advantages and shows off such a wide range of great ideas that it's just too great for words.
Oh, and there's a really interesting final 'twist' to the whole thing once you've beat the first few phases.  It's certainly something you won't expect…
So the final giant boss battle in Mario & Luigi Dream Team is the best moment in the game (at least when the gyro works properly).

The Worst
And with the best moments listed above, here are the five worst ones in Mario & Luigi Dream Team.  Well, all games have some negatives, right?
5. Kamek's Magic Doors
First on this list of shame is the magic doors puzzle in Neo Bowser Castle.  Basically, Kamek casts a spell on all the castle's doors to make their lead to completely different places than they're meant to, and you have to carefully make your way round the map to solve puzzles and track him down in the dream world.
Problem is though… it's not particularly fun.  Okay, the enemies are fun to fight, the Kamek boss battles are some of the best in the game and the atmosphere is great.  But the door gimmick itself is more annoying than anything, being neither much of a challenge (since it's not your standard maze) nor particularly self explanatory (since it all eventually comes down to exactly ONE door in ONE area that leads somewhere different with no indication).  So that's the first bad thing on the list.
4. Trapped in a dream
The second though is a plain annoying section known as Dreamy Mount Pajamaja.  Here, Mario enters the dream world to escape the deadly and extremely catchy Dreambeats…
But here, he gets trapped.  As in, the portal vanishes because Luigi falls into too deep a sleep.
And while the area you explore is fun and the boss at the end is interesting, it honestly kind of sucks being locked out of any sidequests at an arbitary point in the storyline for a good hour or three.  They should have at least gave a 'point of no return beyond this point, turn back now if you want to do random stuff' sign before the mountain summit or something. It's not the end of the world, and you do get to play sidequests again when you beat the volcano boss a bit later, but being locked out of all the enjoyable diversions for an hour or two is a pretty annoying video game design concept, and one I'm rather sad was used in a Mario & Luigi game.  Hence it's placement on this list.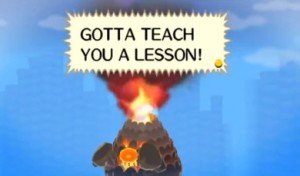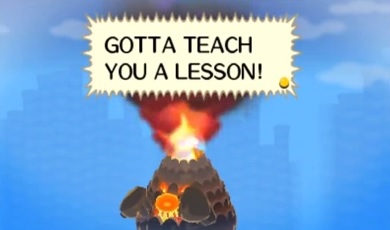 Above: Hope you can beat this guy, because you can't escape Dreamy Mount Pajamaja or play any sidequests ever again if you can't.
3. Break the rocks
Onto bad item three now, and this time, it's the rock breaking part of the Ulti-Bed task.  Long story short, Brickle needs some people to break rocks in Mushrise Park, and then basically uses the Mario Bros as unpaid labour and gets them to do the job.
What sucks about this part though is that it's just not that fun.  I mean, you're literally just breaking rocks with a hammer.  Okay, some enemies show up and you fight them in various areas and some puzzle mechanics are added to make it a bit trickier, but it's the kind of thing which feels like pointless filler to waste time for an hour or so.
There should have been something interesting involving Wakeport or something for this Ulti-Bed part instead.
2. Mole Hunting
Yeah, that mini game on Driftwood Shore.  The one which has you burrow underneath crabs and jump up to catch them for points.
It's an interesting idea to some extent, but it honestly is just a pain in the proverbial due to its fairly unprecise, shoddy mechanics (burrowing underneath something and jumping upwards is not a precision technique) and how it's literally forced on you for no reason other than some random old guy wanting to rip you off.  Did I mention how at one point he even says 'beat my score in Mole Hunt 2.0 or I won't tell you where those thieves went'?  Or how he doesn't actually know where those thieves went but doesn't say until you win?  Or how said thieves will never freaking spawn until you do beat the Mole Hunt game, even if you know where they're headed from experience?
Hooray for pointless mini games out of absolutely nowhere!
1. Pass through the rings
Finally, you've got the ring puzzles in Dream Team.  In these, some random mole creatures decide the only way they'll give up some Pi'illos they've got are if you beat them in some game they invented.
So what's the game?  Pass through all the rings without running out of steps, landing on the same tile twice, while in ball form and without landing on any moles.  It sounds simple, but believe you me it isn't.  Add how the graphics style makes the rings hard to judge (because they appear one tile above their actual location), and you have a mini game that's a real recipe for frustration.
And that ends my list of the best and worst parts of Mario & Luigi Dream Team.  Agree with my choices?  Think I missed anything awesome or terrible out and want to suggest it?  Go and either comment below or at Nintendo 3DS Community.com today!