Nintendo's Best Nintendo Direct Yet; Yoshi, Zelda and More!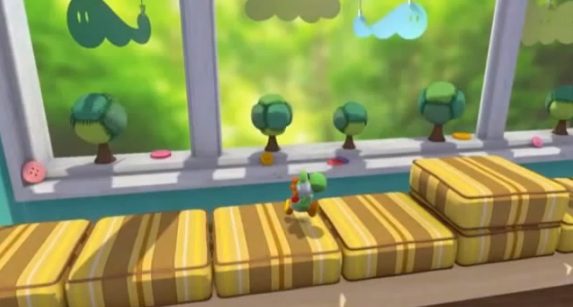 Usually, Nintendo Direct presentations aren't that much to care about.  Maybe coverage of a single game or two at best, usually with the only announcements being a mediocre eShop game that Nintendo hypes up as the best thing in the world.  So my expectations going into today's video were pretty much nil.
And to start off, I guess I was sort of right.  Here's what Iwata talked about first:
There will be two new Wii U updates, one in Spring and one in Summer to improve console functionality.
The Wii U Virtual Console will be started, with Miiverse, off screen play and save data backup functionality.
Game Boy Advance titles will be on the Virtual Console, albeit with no mention of Gamecube ones like everyone was anticipating.
There was also talk of Miiverse drawings, special promotions to go along with the anniversary of the NES/Famicom's launch and a few other things.
But then… it got interesting.  Wait, a new Yoshi game is being developed by the same people behind Wario Land The Shake Dimension and Kirby's Epic Yarn, and that it'll be supervised by the same person behind the SNES Yoshi's Island title?  Wow, that is a surprise!
And the E3 talk was even more surprising.  Wait, so Super Smash Bros 4 will be shown off for the first time ever at this year's E3?  Freaking hell, the time has finally come.  The internet is about to go into meltdown, the fans are going to finally see what the Wii U and 3DS will bring to the Super Smash Bros series and a million and one rosters are either going to be confirmed or chucked out the windo in one foul swoop.
That alone would have kept excitement levels up for the rest of the year, after all, everyone wants to see Super Smash Bros 4 for the first time.  But then they announced that Nintendo Tokyo were working on a new 3D Mario game for the Wii U, that a new Mario Kart game was in development and that both will be shown in playable demo form at this year's E3?  Talk about one hell of a hype storm brewing!
And then what's this?  Shin Megami Tensei meets Fire Emblem?  Freaking…
Straight after that, the hype train just went up and exploded.  Why?  Because Eiji Aonuma came on and announced that not only was Nintendo working on a brand Legend of Zelda title for the Wii U (and that it will significantly overhaul the gameplay to allow you play dungeons in different orders and perhaps in multiplayer), but also that a brand new remake of the Legend of Zelda The Wind Waker was coming to the system very soon!  Here's a video showing all this total awesomeness:
Finally, to close it off we got a trailer showing a brand new game by Xenoblade makers Monolith Soft.  It's not been named yet (the code name seems to be just 'X'), but it's yet another vast RPG/adventure game being developed by them, is being made for the Wii U and will be presumably be released in all regions right from the start.
Yeah, Nintendo's newest video really did shock the hell out of everyone and reveal brand new games like they were promising.  Nintendo's best Nintendo Direct yet?  You bet it was!