Nine Characters Who Won't be in Super Smash Bros 4; Who Not to Expect come E3 2013

When it comes to character predictions and Super Smash Bros, they're one hell of a mixed bag. You've got the popular characters people like and hope to be in the next game (King K Rool, Ridley and Shulk for instance), the characters no one's even heard of that some utterly delusional fans hope will be playable in the game (Carpaccio and Honey Queen for Super Smash Bros!) and the hordes of third party predictions that are less likely than the last (Mega Man, Simon Belmot, A Call of Duty character, Mickey Mouse…) But ridiculous ones aside, here are nine highly wanted and beloved characters I can practically guarantee will not be in Super Smash Bros 4. Have fun!
Zoroark
Because while he's definitely Game Freak's gen 5 attempt at replicating Lucario and marketed to hell and back, I think generation 6 will probably kill his chances stone dead.
Why? Well think of it this way. Remember how Nintendo had a playable character based on Pokemon Ruby and Sapphire in Brawl? Wait, no they didn't. That's because Pokemon Diamond and Pearl came out between the release of the gen 3 games and Brawl's own development and release date. And I guarantee anything the same situation will occur again with Pokemon X and Y getting a playable representative instead of Black and White.
Let's not also forget that Pokemon X and Y versions are coming out this October. That's not a vague 'couple of years away' release date like Zelda Wii U got, that's a set in stone release month for the games, and they'll be available worldwide at the same time. Unless an absolute 'miracle' occurs and Super Smash Bros 4 somehow has a finalised character roster before the end of the year, we're getting a playable generation 6 Pokemon and not Zoroark.
Additionally, keep in mind Zoroark kind of failed to catch on like Lucario did. Sure Nintendo and Game Freak pushed him wherever possible and tried to make him the generation 5 Lucario equivalent, but the fanbase weren't having any of it. Given how they've practically surrendered as far as marketing him goes, I wouldn't be surprised if gen 5 was represented by an actual ensemble darkhorse like Genesect instead.
Either way, Zoroark's chances are as good as dead, and only a couple of die hard fans think otherwise.
Rosalina
A Mario character that really has lost a lot of popularity in the last few months or so, Rosalina still seems to have a couple of dedicated fans hoping for her to be playable in the next Super Smash Bros game regardless.
But you know what? I honestly think her chances are now as good as gone. Seriously, she's not relevant any more. I mean sure, she had a massive role in Super Mario Galaxy 1 where she appeared to recreate the universe, but what since then?
Nothing except minor bit part roles and Mario Kart. Her Super Mario Galaxy 2 appearance was basically just an extra meant to shut up the few fans complaining that Lubba took her role for most of the adventure and to show the two games were connected in some way. And her being in Mario Kart has absolutely no bearing on her importance. After all, two Mario Kart or Mario spinoff appearances isn't exactly a difficult thing to achieve, as these characters have all found out:
King Boo
Birdo
Toadette
Koopa
Paratroopa
Funky Kong
Shy Guy
Metal Mario
Dry Bowser
Baby Peach
Baby Daisy
Petey Piranha
Kritter
Boo
Baby Donkey Kong
Hammer Bro
Boomerang Bro
Blooper
Goomba
Toadsworth
Out of all those more minor characters, I'd honestly say that the likes of King Boo or Petey Piranha is probably more likely Rosalina is. Hell, out of all the Mario characters left to include, she doesn't even barely register on the pecking order:
Waluigi
Bowser Jr
Princess Daisy
King Boo
Kamek
Petey Piranha
Paper Mario
Fawful
Rosalina
Even Dry Bowser probably has more of a hope in hell than she does. After all, Rosalina appeared in a minor role in Galaxy 2, a major one in Galaxy 1 and two spinoffs. Dry Bowser appeared playable in two spinoffs, had a boss role in a Mario and Sonic sports game and was a major boss in two New Super Mario Bros titles and Super Mario 3D Land. Practically speaking she's literally less important than a palette swap and probably only a little more so than the likes of Naval Piranha.
She isn't going to be in a Smash Bros game. It's not even guaranteed we'll see a new Mario character in one…
December 2013 Edit: I was completely wrong and Rosalina is in the next Super Smash Bros game.  Now don't go attacking me based on what was reasonable back in March based on existing evidence.
Ghirahim
Yes he's currently popular because he's a well liked villain from the latest Zelda game in the franchise. But that doesn't mean he should automatically shoved into Super Smash Bros Brawl and end up depriving more needing characters of a place.
For one thing, his popularity is literally 90% because he's from the last game in the franchise. That's normal, every game has a popular one off character or two (also see Rosalina, Zoroark and N on this very list). But they tend to lose most of their popularity the minute they fall out of relevance and never get seen again.
That's it. It's basically 15 minutes of fame fictional character edition. Once a new game or work comes out with a new ensemble darkhorse, they then get forgotten by all but the most die hard (and sometimes delusional fans) and the cycle repeats itself. Prior to Brawl we had people ask for popular Twilight Princess characters like Midna and Zant. And if Smash Bros had been super popular in the days of yore, we'd have ended up with die hard fans campaigning for Agahnim, Majora, Veran and Onox too. It's an endless cycle, and mark my words; Ghirahim and most of this list will be irrelevant within two years.
Geno/Dimentio/Near enough any Mario RPG character
Basically, name any popular character from a Mario RPG, and there'll be at least someone adament they've got a chance of being in the next Super Smash Bros game.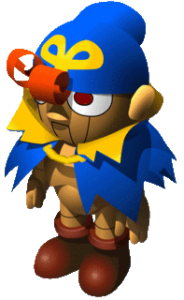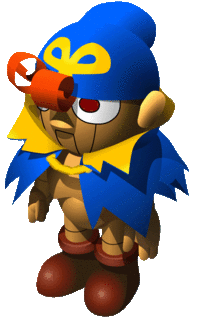 For much the same reasons as Rosalina and Ghirahim, except with the additional problem that the Mario RPGs just aren't very popular. That's not to say they're bad, but look at it this way:
Ghirahim is unlikely despite being in a game selling about 4 million copies.
Rosalina is unlikely despite being in games selling between 10 and 20 million copies (albeit as a side character in most)
But the average Mario RPG sells at best about as much as Skyward Sword did, and in general about 2 million copies worldwide. Super Mario RPG? Sold about 2.5 million copies worldwide. Paper Mario the Thousand Year Door? Same scenario.
Nintendo/Sakurai aren't going to include a character which has zero relevance outside of a fairly unpopular game released many years back, and that isn't even really 'retro' in any way. I like Geno, Dimentio, the X-Nauts, etc as much as anyone else, but at best they're 'internet popular' rather than mainstream and wouldn't cause many people to be excited for Super Smash Bros 4.
If anyone from a Mario RPG I'd expect either Paper Mario himself, or just MAYBE Fawful (due to his popularity and even presence of a wiki page).  It's certainly not going to be Geno.
N
Another one time Pokemon character, N is the main 'villain' of Pokemon Black and White 2 (villain in quotes because he's just a pawn for Ghetsis) and the supposed leader of villain group Team Plasma.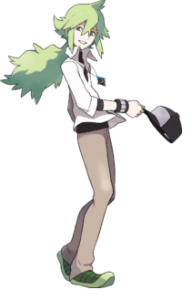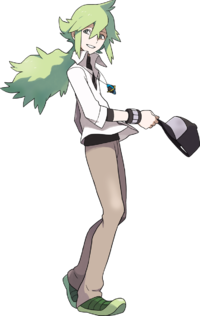 But while there is quite a bit of discussion about him being a Pokemon Trainer style rep for generation 5, I think his chances really aren't that good in general. Will N ever return in another Pokemon game set outside Unova? Probably not, he'd make absolutely no sense in a region based on France like the one in Pokemon X and Y, and I don't see him appearing in other future generations either.
So while him appearing in a Super Smash Bros game might make for some interesting scenarios and 'moral' questions (would they make him a hero or a villain? He's both opposed to the heroes and their traditional ideas and yet too 'nice' to really stand alongside the likes of Bowser, Ganondorf or King K Rool), his major role in only one generation might make him rather irrelevant by the time Super Smash Bros 4's roster is finalised. After all, when's Pokemon X and Y coming out, this October?
Marx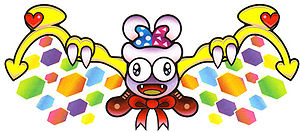 Really, people have suggested Marx as a playable character to represent the Kirby series with no irony whatsoever.
He's a good enough boss character (and his chances of being a boss in a Super Smash Bros games are arguably decent), but I don't really see him as a plausible fighter. After all, he teleports around and isn't even affected by gravity. How the heck is that supposed to work?
So while I guess it wouldn't be hard to come up with a varied moveset for him, I honestly don't see any plausible way to turn a super powerful final boss who doesn't even has walking animations into a character in a fighting game.
Koopalings (no really)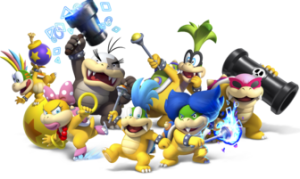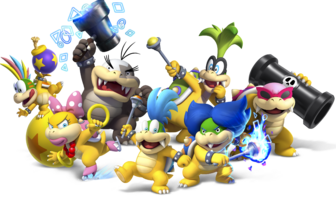 Yeah, some people think they'd work as characters, although no one's quite explained how. Would you really waste seven move slots on mostly identical characters representing the Mario series? Have the most convoluted team setup on the planet?
Not to mention that Nintendo don't ever merely add one Koopaling on their own, so the only real choices would either be to add none of them or add all of them. I think they're probably gonna be assist trophies at best here, it'd be too much hassle to put them all into Super Smash Bros 4 as playable characters.
Any Real Person (Sakurai, Iwata, Miyamoto or Reggie)
Now admittedly, the characters above have some semblance of a chance in a new game. They might be obscure, they might be mostly irrelevant to Nintendo in general, but at least they're video game characters that would theoretically work in a fighting game.
But real people like Shigeru Miyamoto or Masahire Sakurai? No. No way in hell would Nintendo put them as playable in a fighting game, especially one like Super Smash Bros. After all, real people in video games tend to be restricted to non violent genres for obvious reasons, and having real life Nintendo staff as playable characters in a game built around fighting to the death might be seen as a bit extreme.
So I doubt we'll ever see real people in Super Smash Bros or any other fighting game.
Zant or Midna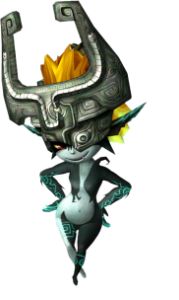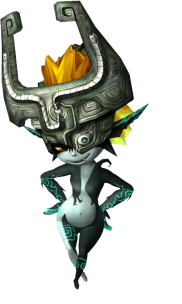 Well, it's already unlikely that a Skyward Sword specific character will make it into Super Smash Bros 4. What chance in hell have any characters from Twilight Princess got now? Especially one time characters like Zant or Midna.
Remember, as I said above, their fifteen minutes of fame are now up. If they don't ever return in another Zelda game, then the chances we'll ever see them again (Super Smash Bros or not are practically non existant). Neither will likely end up as playable in the next Super Smash Bros title.
So there's the list. They're not the least likely character ideas I've ever heard, but frankly they're some of those that have enough of a fanbase despite their slim chances that I thought it'd be useful to point out why they probably won't be included. I mean, I could give fifty million reasons Kammy Koopa, Dunsparce and [random Call of Duty character here] aren't going to be included, but fairly few people were seriously predicting it in the first place. These on the other hand have a fanbase I think should probably not get their hopes up so high over an unlikely character, hence their inclusion on the list.
What do you think? Do you agree with my reasoning? Or do you think Sakurai will include a lot of one offs like N and Ghirahim just to appeal to the fans and maybe scrap them for the fifth game?