Mario & Luigi 5; My Wishlist

With Mario & Luigi Dream Team released recently to great reviews and user comments, it seems practically inevitable that another game in the series will be unveiled for the 3DS in a couple of years or so.  And so because of this, here's my wishlist for the 5th Mario & Luigi game, with ten things I really want to see included in the game.  Things AlphaDream should do in the next title…
1. Make Bowser and the New Villain Independant Forces
But with the important difference that unlike in the earlier Mario & Luigi and Paper Mario games, both sides are extremely competent and hence stuck in the middle of a bitter enemy civil war while the heroes are trying to save the world.
Why is this a good idea you may wonder?  Well for one thing, it'd give both Bowser and whoever the new antagonist is a chance to shine and show their true power as a dangerous enemy, without turning one or both of them into incompetent morons who can't do the slightest thing right (such as Bowser in Paper Mario 2 or the same guy in Superstar Saga).
It would also mean we can see battles with two different evil factions at once, with Mario and Luigi having to take down BOTH sides at the same time.  This could be made even better by having the different sides trying to counter each others attacks (at the same time that Mario and Luigi are also countering with their jump and hammer abilities) and by implementing the free movement system from the dream battles into the real world fights too, letting the player trick the different sides into hurting or killing each other in battle (as well as avoiding damage to themselves).
So for one thing, I'd love to see two different villain factions fighting each other as well the Mario bros in the next game, sort of like how Pokemon gen 3 had Teams Magma and Aqua.  After all, we've had villains take advantage of Bowser (Superstar Saga and Partners in Time), villains make Bowser turn 'good' (Bowser's Inside Story) and even villains team up with Bowser (Dream Team), so why not have a villain 'war' as part of the next game's plot?
2. Make giant battles resemble the normal ones a bit more in structure
With things like a range of special Bros Attacks you can use, badge effects/gear effects and levelling up actually affecting your stats in them.
This would be a good idea because at the moment, the giant battles seem a bit… disconnected from everything else in the adventure.  Who cares if you level up or not in Dream Team or Bowser's Inside Story, since you're always the same strength in each giant battle anyway.  And while they are extremely fun, the lack of attacking options can get a little disappointing (Bowser's Inside Story only gave you two attacks here, and Dream Team only ups that to four).
So I think in the next game, it'd be great to see the giant battles worked into the RPG game structure/level system a bit more.
You'd have Attack Pieces that'd unlock Bros Attacks that could be used in Giant Battles, of the more fancy Dropchopper/Star Rocket/Zee Egg/Jet-Board Dash kind, which would keep the battles more interesting and open up new possibilities for boss weaknesses and what not.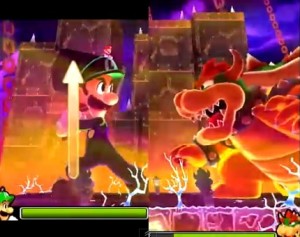 Above: Good, but giant battles could be even better still in the next game.
And the various other battle mechanics (like gear, badges, etc) would be usable in the giant battles, with many of the same effects.  It'd be fairer for new players too, since anyone having too much trouble with Earthwake or the Zeekeeper or whoever could activate the Guard Badge's effects or maybe the Time Stop one via the Gold/Miracle Badge combo. It'd make the system tie into your customisation choices a bit more.
Finally, imagine having attack/defence/speed/hp boosts when you level up also apply to the giant battles.  Okay, it wouldn't be designed so you could grind endlessly to basically cheat your way through (perhaps with giant battle stats going up every ten levels rather than one), but it could make the fights more fun for people who like level grinding and want their choices to have a real impact on the whole game, and it could also lead to some interesting changes like having giant bosses either attack first or last depending on your speed stat.
Really, I want to see this.  I want to see giant battles get even more varied and actually start to take advantage of your abilities and stats.
3. Keep the personality and unique story/cast
This is one of the best parts of the Mario RPGs, Dream Team included.  Don't make the same mistakes as Paper Mario Sticker Star did.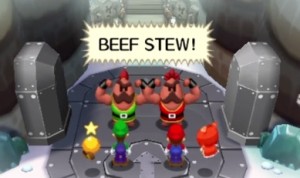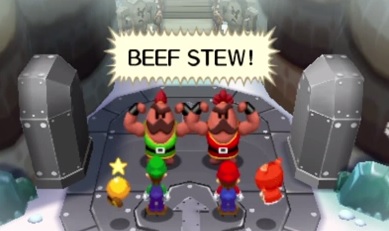 Above: Why Mario & Luigi Dream Team blows Paper Mario Sticker Star out the water, in just one screenshot.
Nothing much to be said here.
4. Introduce another new location for the game to be set in
Because I really do think the games with new settings (Superstar Saga, Dream Team) just have far more interesting worlds than the ones which merely reuse the Mushroom Kingdom in some way.  Probably because the latter practically have an obligation to stick places like Peach's Castle, Toad Town, standard Bowser's Castle, etc in them because they're 'expected' and have less room for interesting new locations as a result.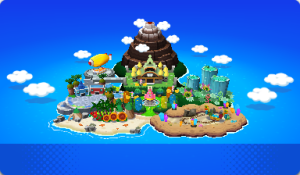 Above: New locations are always nice to see in these games.
So another new location like the Beanbean Kingdom or Pi'illo Island would be great.
5. Keep Hard Mode, and improve it a bit more
I loved hard mode, no questions asked.  I mean, a new game plus for experts that drastically raises enemy damage and even changes the giant boss battles in fairly significant ways?  What's not to love?
But still, it had a few issues that I think could be improved the next time round.
For example, I think it'd be great if they made normal bosses and enemies actually you know, attack a bit differently in hard mode.  Have some new attacks exclusive to this difficulty setting complete with harder action commands to pull off when dodging them.  Make them use their existing attacks at a much greater speed and with new patterns, so that people who breezed through the main game will have to stop and learn some new patterns to beat hard mode and avoid getting slaughtered by enemies.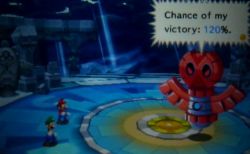 Above: Bosses like this one were tough in Dream Team, but they should have new Hard mode attacks and stuff.
More importantly though, they should make the next game's hard mode actually change how the game plays outside of battles, by doing things like moving some objects/items around and changing what enemies you encounter.  For example, imagine how more difficult the game would be (and how more interesting it'd be) if the likes of the Beehoss, Boomerang/Fire Bro and Fly Guys actually turned up much earlier on in the game (perhaps in Mushrise Park or Mount Pajamaja).  It'd mean that not only would they be serious threats with their higher than usual stats, but you'd have less badge effects, gear and Bros Attacks to deal with them, making the battles more interesting.  Additionally, things like Attack Pieces, photos and Pi'illos could actually be moved around and made more difficult to find/get giving you a real reason to explore the world again.
And a better prize for beating it would be nice for the next game too.  I mean, I won't spoil what you actually do get for beating hard mode in Dream Team (it's mentioned on this site already somewhere), but it's not exactly something that's a great reward for another 35 hours of difficult gameplay. The next game released in the series should change this.  Add a real reward for completing the optional hard mode.  Indeed, I envision a scene select/new game plus option myself, something whch lets you try out the different parts of the game at any time with either stats typical to the area or your endgame stats… but with all Bros and Luiginary Attacks unlocked and any gear, badges and other equipment you had in the final battle.  Sort of like a god mode option for anyone wanting to see how earlier parts of the game would have been different with the stuff learnt much later on.
So yes, I want to see hard mode return and become even better in the next Mario & Luigi title, with a real reward gained for completing it.
6. Make all bosses refightable
Another thing I want to see is the option to make any bosses you fight in the game available to rebattle at the end, perhaps with higher stats.
Because while it is better than in previous games (Superstar Saga and Partners in Time made all bosses one time only events and Bowser's Inside Story had no boss rush for Bowser at all), Dream Team still has quite a few memorable encounters that are completely gone for good once you win them the first time around.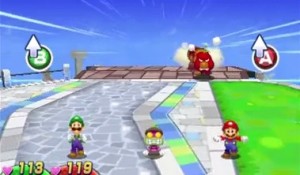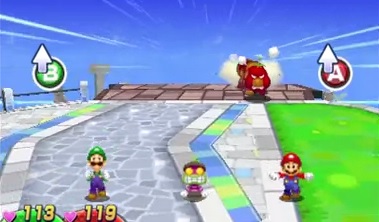 Above: We should so have been able to redo this battle in Dream Team.
Such as Big Massif's Hooraws in Dreamy Wakeport, who you should have been able to rematch by going to their Dojos or the tour centre or whatever.  Smoldergeist and Dreamy Mario, who don't even end up in the Battle Ring.  Popple and Wiggler, who also don't end up in the Battle Ring.  And how about old Kamek?  It's a real shame you could never show anyone his boss battles once you've beat them the first time.
And so in the next game, I hope they finally just make every boss in the entire game possible to refight in some way, either through the Battle Ring equivalent or optional sidequests/talking to them/whatever.  We're getting there with Bowser's Inside Story and Dream Team's setup (from a basic boss rush to a better one with additional giant boss rush), but there's still progress to be made yet.
7. Bring back Fawful
Yes, I get it. Fawful supposedly 'died' in Bowser's Inside Story.  But you know what?
This is the freaking Mario series! This isn't a franchise where a character 'dying' means they always stay dead!  With magic, 1-Up Mushrooms and goodness knows what else, there are obviously two million ways you can bring a defeated villain back from their supposed demise, and so I think Nintendo should do that with Fawful.  Maybe the other villains too, like Cackletta, Antasma, etc in later games.
Above: People like Fawful.  He should return.  There is no reason he shouldn't other than overly picky geeks complaining about 'canon' as if it exists.
To add to this, you have to also keep in mind just how popular Fawful (and to a lesser extent, the other villains) are with the fandom and gamers in general. Remember those stupid reviews complaining about Dream Team not being as funny as Bowser's Inside Story?  Bet you anything that Fawful's absence was the main reason for them thinking that.
They might as well just bring him back for the fifth game, even if he is in a minor NPC or bonus boss role.  It's not like you'd lose anything by not doing so.
8. Make the music even better
Every Mario & Luigi game released so far has generally had a better soundtrack than the games before it (with Dream Team's one even topping that of Bowser's Inside Story), so this is pretty much a given anyway.
None the less, I want to see even better music in the next game.  Give us some themes that make even the amazing music in Mario & Luigi Dream Team look bland by comparison.
Above: Can these themes be topped?  Definitely, and especially by a composer as good as Yoko Shimomura
9. Another optional 'superboss' should be included
Yet another thing I want is another bonus boss to fight that's not found in the Battle Ring, like the Shroobs in Bowser's Inside Story.  Make them extremely powerful with an interesting series of attacks, have them guard either a powerful piece of gear or a new Bros Attack and make them a character which is really just there to please the fans.
Maybe this could be Fawful's role in the next game?  A role for Antasma if he returns in some form?
Either way, I want to see such a boss.  Mario & Luigi needs multiple bonus bosses like Paper Mario and its Pit of 100 Trials foes.
10. Include Wario and Waluigi, somehow
Why this hasn't been done in a Mario RPG yet I don't know, but I really want to see at least one Mario & Luigi game in which Wario and Waluigi end up as the third and fourth playable characters. Perhaps with a system like with Bowser where you can switch between the two parties at will and have them explore different parts of the world at the same time.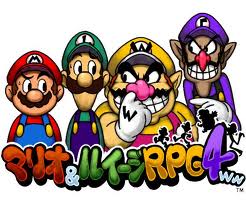 Above: Ignoring the '4', can anyone say they don't want to see this?
They'd have different abilities to the Mario bros, their own version of Bros Attacks in battle and all the wacky sense of humour from the Wario Land and WarioWare sub series, and hence they seem perfect for a Mario & Luigi game at some point.  Maybe they can even actually include a few Wario series elements or something, like some of the major characters as NPCs or some remixed music for cut scenes or the like.  Can anyone not find the concept of AlphaDream writing for Wario or his fellow WarioWare employees/Wario Land foes absolutely amazing?
Please do that Nintendo.  And use the opportunity to give Waluigi an actual personality too, since he's long been due an appearance outside of Mario Kart/Mario Party/Mario sports games.
And so that's what I want to see in the next Mario & Luigi game, when it's presumably announced for th 3DS in a couple of years.  Do you agree with my suggestions?  Think that the next game would be much better if all of them were implemented, leading to a game better than even Bowser's Inside Story and Dream Team?  Or are there suggestions you think should be left out?