Free Web Game Steals Nintendo Character Art for Advertisements?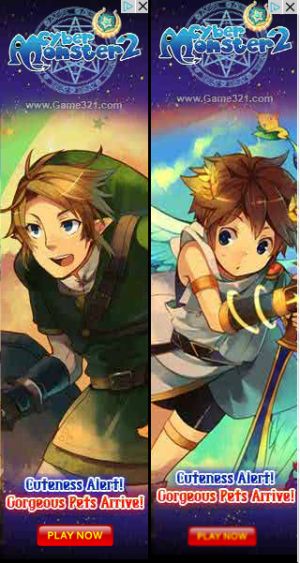 Apparently, these banners for a game calling 'Cyber Quest' have been popping up all over the internet recently.  But wait, take a look who's featured on them…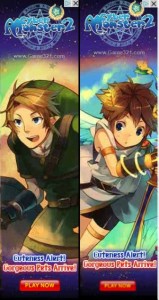 Yep, Link from The Legend of Zelda Skyward Sword and Pit from Kid Icarus Uprising.  Because I'm so sure that Nintendo really authorised you to use their intellectual property to advertise your crappy free online MMORPG, right?  Oh wait, they didn't.
To add insult to injury, the fan art used in the ads isn't by the makers either… it's taken from some poor fan artist's gallery and used with no credit whatsoever.  So… they're ripping off two distinct entities at once here in a single advertising campaign.  That's sure to go down well…
Oh, and in case you were wondering, the game itself has nothing to do with Nintendo.  Or Zelda.  Or Kid Icarus.  It's not a fan game made by someone who likes Nintendo games and wants to make their own, it's a generic fantasy game based by a 'professional' Chinese game development company.  That just happens to have stolen artwork of Nintendo characters to advertise their terrible game.
All in all, it's yet another example of how some people and companies are so lazy and desperate that they're willing to commit blatant copyright infringement in their attempts to make money.  Give it a day or so before Nintendo's lawyers contact them with a cease and desist order or something.
What do you think of this blatant act of stealing?
Source: