F-Zero AX hidden within F-Zero GX?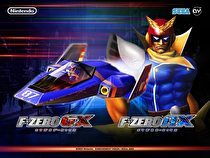 Well, this is a very interesting discovery that some 'hackers' have found. You know F-Zero AX, that arcade game that's now become pretty difficult to find and that was meant to be compatible with F-Zero GX for various things?  Well apparently the whole game is hidden inside the code for F-Zero GX, so anyone with an Action Replay can play it all for free!
So how do you access this?  Just enter one of the following Action Replay codes and load up F-Zero GX on the Gamecube:
Code to Access AX (PAL Version)
Z60V-MZG0-VRAQ2
3DFJ-55T9-J5J7P
NBCW-U1NV-0JDJG
HK7K-0RFW-FNQ8Y
PF4U-P5D0-862X1
9D4X-PVXV-R3FNV
Q7PM-1678-XE7FW
UAB4-HZ2F-AW6X5
T6UV-03PE-1H26C
BN71-WCD5-DYDNW
FHW5-F3D3-B2UZ5
NJR5-FE19-GQ851
5FRQ-P6M4-096F3
85KV-QPJD-4U999
VXM8-U9Y8-URZPR
VZFH-H43M-5N6E3
G71V-JPGY-BPDDZ
GUZD-V5KT-UBKA8
Code to Access AX (US/NTSC Version):
61TA-AXPK-UAV9E
EHJV-6U30-2DTVE
NBCW-U1NV-0JDJG
HK7K-0RFW-FNQ8Y
PF4U-P5D0-862X1
7HUZ-2PJY-J5TTU
Q7PM-1678-XE7FW
YW2J-AUVE-R79V8
T6UV-03PE-1H26C
R91R-1A6J-ZXN30
1GHM-VQ7W-7HBWW
Looks like that'll make playing the arcade game much easier, now just about anyone can play it for as long as they want by entering a few Action Replay codes!  Nice work whoever found this!
Source:
F-Zero AX Arcade Game Hidden in F-Zero GX – My Nintendo News