Given the sheer scope of the game, it was always inevitable glitches were going to be found in Super Mario Odyssey. After all, bugs are unavoidable in video games, with the more ambitious titles having the most by default. And well, every Mario, Zelda and Pokémon game in the last twenty years has been filled to the brim with interesting glitches to play around with it.
So, it's no surprise some interesting stuff would be found in Odyssey. But what is interesting is the sheer scope of these bugs.
Why? Because despite the game not being out for more than a few weeks, they're not minor bugs that have Mario clipping a few pixels into a wall or the font getting screwed up. Nope, they're full blown game world time crashes, massive out of bounds tricks and much more besides. There really is a ton of interesting stuff to see here.
Hence if you're interested… keep reading!
6. Out of Bounds in the Luncheon Kingdom
Effect: You go straight through a wall and out of bounds
Starting with this nice, simple out of bounds trick in the Luncheon Kingdom. To use it, first Capture a Fire Bro in this area here: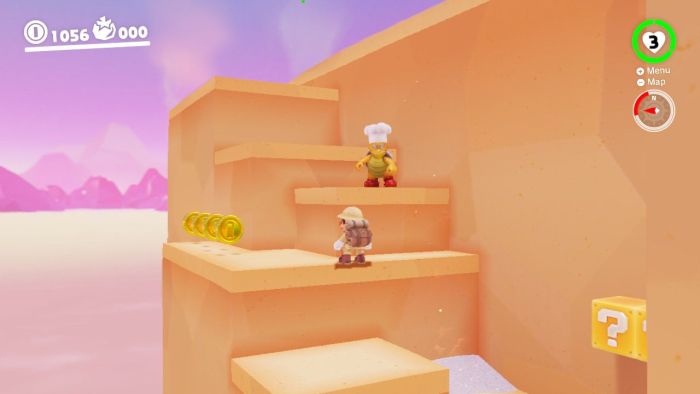 Yeah, I know, you can technically Capture one anywhere in the level, but this is a lot more convenient given where the glitch takes place.
Either way, once you've done that, then bring him over to this corner here: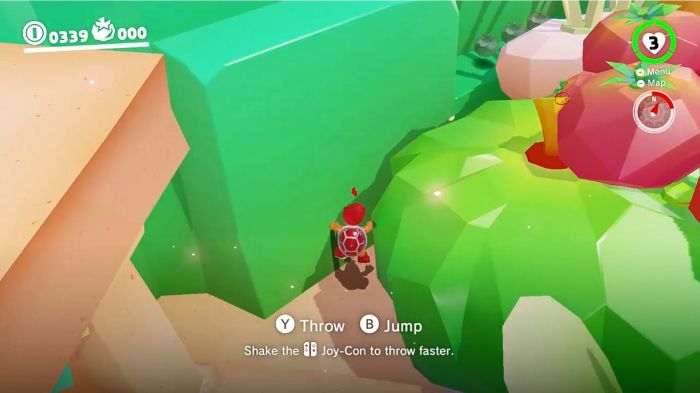 And hop towards it. If you did it right, you'll go straight through the wall and end up out of bounds. It really is that simple.
However, simplicity comes at a cost, and this time the cost is that going out of bounds here isn't actually all that useful. Yes, you can walk behind the shops and appear to be standing on thin air. Yes, you can get some nice pictures by having Mario appear to be behind the 8-bit volcano wall or what not.
But as far as breaking missions go, no dice. You can't get into the shop without the chef outfit, since the place has a back wall and the loading zone wouldn't be active anyway. You can't go too far back to reach other areas, since there's actually an invisible wall right in the middle of this area for whatever reason.
And if you decide to leave the Fire Bro's body for whatever reason… well just enjoy seeing poor Mario plummet to his death. For whatever reason, the invisible 'floor' you stand on doesn't seem to support Mario when he's not in the form of an enemy, so a quick demise awaits anyone who tries to go exploring on their own.
Still, it's an easy glitch, and it acts as a nice introduction to the possibilities glitches in this game allow. So, test it out, mess around a bit and then get ready for the next bug on the list…
5. Inside a Building in the Metro Kingdom
Effect: You end up inside a building, because your scooter sent you through a wall
Which happens to be both a fair bit more annoying to pull off and a tad less limited at the same time. That's because unlike the one in the Luncheon Kingdom, the Metro Kingdom/New Donk City out of bounds clip requires a precise angle to pull off, as well as the use of a moped found in the stage.
Here's a video showing how it works:
As you can see, it's a pretty limited area to run around in, with a few buildings to explore and the ability to collect a few well-placed items if you know what you're doing. Again, like in the Luncheon Kingdom, you're not gonna be using this to skip any missions here. It simply doesn't allow for anything quite that interesting.
But it does allow for you to see something you may not expect in New Donk City. Namely, a perfectly solid looking brick wall Mario can walk straight through. It's pretty bizarre really, especially given how exactly one wall (which you're never meant to interact with) just happens to be solid. Eh, maybe Nintendo had plans for that building in a beta version of the game or something. It wouldn't be the first time they left unused objects and collision lying around in levels.
Still, I'm sure you're getting bored of the tiny areas to run around, so let's look at a bug that's a bit more… interesting in its possibilities.
4. Underneath the Cap Kingdom
Effect: The Paragoomba you're controlling goes through a solid wall and ends up underneath Bonneton
As well as so easy to pull off that it may actually be the easiest glitch in the entire game.
Seriously, you can activate this one without even trying if you know where to go.
So, to use it, return to the Cap Kingdom and Capture a Paragoomba. Once you've done that, just head over to this corner here: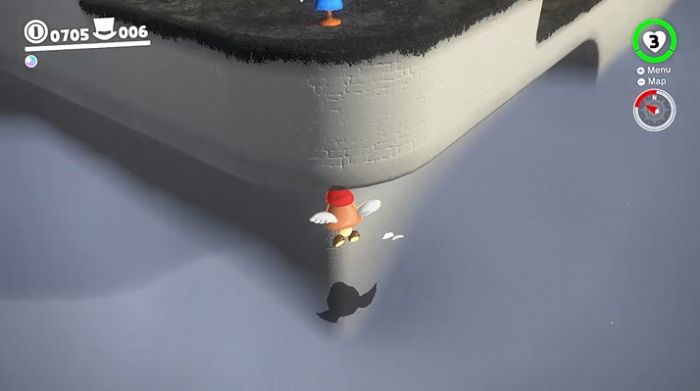 And fly into it. If done 'correctly', you'll fly straight through the wall and under the level.
Yeah, it really is that easy. The corner seems to have no collision detection whatsoever, so there's not even sort of knack needed for it. Here's a video showing it in action, in case you're still a bit sceptical:
Once you're in, well you can pretty much go anywhere you like to your heart's content. Want to head behind a Cap Door early? Sure, go right ahead. Want to go underneath a shop and see if you can land next inside the hat stand? Sure, I guess.
You can also land in the water underneath the plugged pond in the level. Not very useful, and you have to keep pressing the jump button (since Mario tries to sink down automatically), but it's a neat extra.
So, check it out if you're interested. The possibilities here are almost endless!
But compared to the next three… it's nothing…