Yacht Club Discusses Shovel Knight's Japanese Localisation
What's more, it's a really interesting read.
Why? Because they're treating it like a real NES game localisation.
The graphics have been edited slightly to match the VRAM differences between the NES and Famicom. The sound effects were switched around. Heck, you've even got rice balls in the gastronomer's frying pan now!
Here's the post with a longer list of changes:
Japan Localization – Yacht Club Blog
As well as an example of one. Note the obvious addition of rice balls here: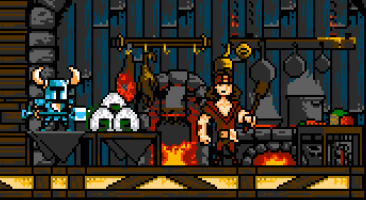 Also of note; all these changes can be activated in other regions too. You just need to change the language to one of the Japanese scripts implemented in the game. So those who prefer the new stuff can actually experience it without buying the game again.
Either way, it's worth reading the article and seeing all the minor changes made to this title. They're not massive design changes, but they're all rather neat changes regardless.
What do you think of the changes made to Shovel Knight in its Japanese version?