Nintendo Review Scores at All Time Low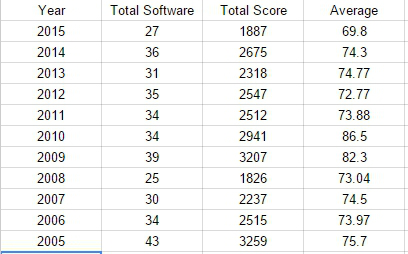 Well, this isn't going to please people at Nintendo this year.  According to Metacritic, Nintendo's review scores are at their lowest this year, with the overall average being the lowest it's been since 2005.  Here's a chart showing Nintendo review scores over the last ten years: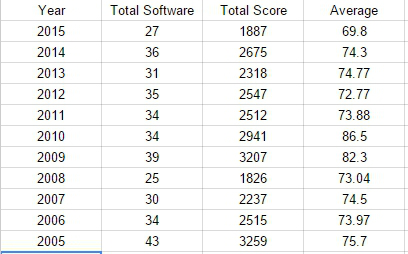 As you can see, the average this year is 69.8%, which is far lower than the averages in previous years.  So what caused it?
Well, to put no finer point on it, a poor selection of games.  Okay, we've had some really good ones too (like Splatoon, Super Mario Maker and Xenoblade Chronicles 3D, but a lot of the others haven't been anywhere near as well received.  Like the Legend of Zelda Tri Force heroes, hovering at around 73% on Metacritic (that's low for a Zelda game).  Or the rather shockingly mediocre lineup of Chibi Robo Zip Lash, Mario Tennis Ultra Smash and Animal Crossing Amiibo Festival, the last of which has the dishonour of a shocking 40% over on Metacritic.
So it's not been good for Nintendo.  But is it all over yet?
Well.. no.  For one thing, we've got Xenoblade Chronicles X coming out later in the year, which is sure to get some fantastic reviews when gaming 'journalists' get around to critiquing it.  And Mario & Luigi Paper Jam is likely to be a good game as well, with the first four games all having well above 80% on the site.  So we might get a bit of a turn around later in the year, possibly to the point that the company's 2015 review average matches that from 2012 or 2008.
But it could stil be better.  What do you think about the review scores that Nintendo's latest games are getting?
Source:
Metacritic Shows Nintendo Reviews at All Time Low for Last Ten Years – My Nintendo News